When the dust settled, last week's episode of Survivor saw the undoing of Mookie. Tonight, an all-new episode promises even more twists and turns. Follow the jump for potential spoilers, if you're into that sort of thing.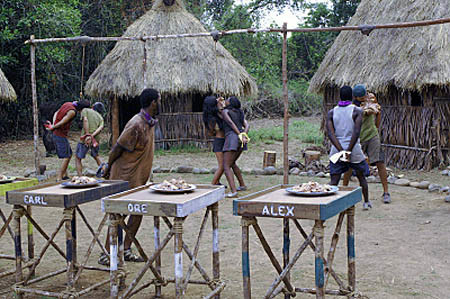 When the Immunity Challenge doesn't go their way, one Survivor proposes a compelling argument before Tribal Council, placing their fate into the hands of several tribemates.
The consensus is that this is referring to Alex, but that it won't be a successful plea. The question is, to which group does Alex base his plea?
One Survivor's constant chatter starts driving the others crazy. Could their mouth cost them the game?
From the previews, this is Boo, and should be misdirection.
Desperate for information, one Survivor uses sneaky tactics to eavesdrop on a confidential conversation. There isn't a whole lot of discussion on the 'net about this, but the consensus is that Alex is the eavesdropper.
ETA: I think the sneaky player eavesdropping might be Yau Man. He senses that something is up when he is left alone even by his alliance mates, so he eavesdrops to see if his fears are confirmed.

Reward Challenge

The RC has been identified as a retread of an Amazon challenge where a contestant must bite off hunks of meat from a swinging rope and spit it onto a pile on their plate. The person or persons with the most weight at the end of the time period will win reward.

There is some speculation that the challenge is a team challenge. Others say it has got to be individual reward. We know that the reward is going to be a helicopter ride to a spot where they go white water rafting.

Exile

Now is the time to send your friends to exile island, since you want for an alliance pal to find the new clues to the newly hidden idol. Earl is exiled - a good thing, because now he can get clue 2 and have a real shot at finding the idol.

Goin' Home

So who will be booted? Again, the consensus on the board this week is that Alex is going to go home despite all of his fight and the other stuff is misdirection.

But here's a different scenario. We also know that in survivor history the time to make your move is at off numbered TC's. There was an awful lot of talk at the last TC about how when it gets down to 6 with Alex and Mookie Lee gone, that the two groups were going to have to figure out who to turn on.

Recap

RC: Yau Man, Dreamz, one other
Exile: Earl
IC: Dreamz
Gone: Stacy in an upset

Matt Richenthal is the Editor in Chief of TV Fanatic. Follow him on Twitter and on Google+.

Tags: Survivor