Isaiah Washington has spoken out for the first time since he got axed from the ABC hit series Grey's Anatomy.
"I'm saddened by the outcome," Washington told Entertainment Weekly.
"I did everything the producers and the network asked me to do. I came back under great duress and stress, and thought that I was doing the job I was hired to do."
Last week, he learned that he will not return to the show for Season 4 of Grey's and he obviously was upset, releasing a statement through his publicist saying: "I'm mad as hell and I'm not going to take it any more."
Washington denied rumors that he was considered for a spin-off series featuring his Grey's character, Preston Burke. The spin-off pilot featuring Kate Walsh, of course, became next fall's Private Practice.
Washington also said that he hasn't gotten much love from his cast mates - Chandra Wilson and Kate Walsh excluded.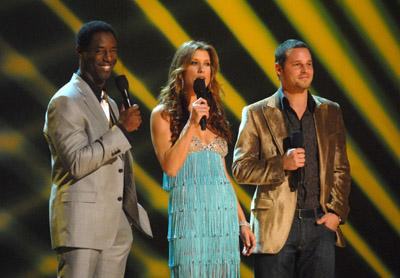 "Everyone is still on vacation. I don't expect to hear from my castmates. I did talk to Chandra Wilson and I received a text message from Kate Walsh. Mostly, everyone's doing their own thing."

Wonder what that text message said... Hopefully, something supportive.

No matter how you feel about the Washington controversy and whether he should've been fired, he provided a certain dimension to Grey's Anatomy that won't easily be replaced. We wish him well.

Steve Marsi is the Managing Editor of TV Fanatic. Follow him on Google+ or email him here.

Tags: Private Practice