It's Sexual Harassment Day at Private Practice.
No, really. The cast and crew are less than thrilled about having to attend a studio-required lecture on the perils of inappropriate compliments.
Kate Walsh, who endured the same seminars during her three years playing Dr. Addison Montgomery on Grey's Anatomy, is overjoyed that the job of doing press for her new show has provided her an excuse to slip away.
Opening the door to her modest air-conditioned trailer, Walsh reaches into her refrigerator to offer bottled water to a correspondent from USA Today.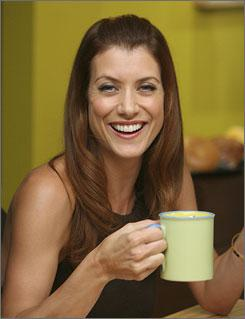 Within a half-hour she has downed two bottles. Keeping herself hydrated, along with weekly acupuncture appointments, has helped keep her focused.

But Kate Walsh concedes she's not yet totally secure at her new TV home.

"I told my husband, 'I haven't really found my groove yet, and I've been playing Addison for almost three years!"

Walsh's husband (of just two weeks at the time of this interview) is film executive Alex Young, who reminded her that Private Practice is new, she says.

"A whole new cast. All new scripts. A new location and crew."

OFF TO WORK

Kate's new job is at Oceanside Wellness Center, a medical co-op in Santa Monica, Calif., a more casual environment than her previous place of employment.

Walsh's morning commute takes her a few miles west of ABC Studios, where Grey's Anatomy shoots, to Raleigh Studios.

Raleigh is comparatively small, a studio lot across right from the mammoth Paramount Studios, in between Melrose Avenue's hip, trendy stretch and its section populated by liquor stores and massage parlors.

It's a fitting locale for Private Practice, a show that similarly lies between the hip and the unknown, and with so much to prove.

"I was waiting to discover just cashews and Tang on our crafts service table — really roughing it," Walsh says. "But I have to say, we have it really good."

So far, at least.

The first episode has yet to be reviewed, and critical response to last spring's pilot (part of an extended episode of Grey's) was not kind.

Shonda Rhimes, creator and executive producer of both Grey's and Private, and Betsy Beers, executive producer of both shows, say many changes have been made since that first glimpse. Focusing their attention "50/50" on both shows has added about four to five additional hours to each workday, Rhimes says. But she believes the results have paid off.

"A lot is different," Rhimes says.

Beers points out the addition of KaDee Strickland as Dr. Charlotte King, an adversarial chief of staff at a mainstream Los Angeles hospital.

Gone is Alias / King of Queens actress Merrin Dungey, who played Addison's medical school chum in the pilot. That part, Dr. Naomi Bennett, will be played by Broadway star Audra McDonald from now on.

"We wanted to put an edge on Naomi that we could define more clearly," Rhimes explains.

McDonald shrugs and says of her predecessor's dismissal: "It's hard when it's as public as it was, but this stuff happens all the time. It has happened to me. I did the pilot of the second Bill Cosby show (Cosby) playing Bill's daughter, and after the pilot, they asked another actress to play the part."

A few minutes after settling into Walsh's trailer, some of her co-stars are heard grumbling outside — the sexual-harassment meeting has concluded. "The biggest (expletive) waste of time," producer Mark Tinker says.

"I was the only one awake by the end of it," says Chris Lowell, who plays young office receptionist Dell.

"It's like high school: You want to giggle," says Amy Brenneman, who never had to attend such meetings during her six years on Judging Amy.

She survived the lecture by "madly texting" mutually harassing messages with her Private Practice love interest, Paul Adelstein.

The crafty one in the group: Tim Daly, who managed to skip it altogether.

Before being called back to his scene, he is congratulated on landing Private, but he cautions, "We're not a hit yet," then later asks playfully, "So are you going to write this great article on us, and then we're going to get a (bad) review?"

Continue reading this article by USA Today ...

Steve Marsi is the Managing Editor of TV Fanatic. Follow him on Google+ or email him here.

Tags: Private Practice