As fans venture to our You've Got Yale" include memorable quotes, the next step for Chair, Nate and Vanessa, and when we will finally meet the mysterious Andrew ...
~~~~~~~~~~~~~~~~~~~~~~~~~~~~~~~
1. What was your favorite Gossip Girl quote from the episode?

DANdy: Courtesy of Blair Waldorf: "Cancel the Nelly Yuki project now!" I just found the name for my new band.
Mister Meester: Of Chuck's plan to oust Jack via plane crash, Lily says the company jet is very expensive. Chuck's reply? "There's insurance." Awesome that Lily's first concern was the financial fallout from idea #26, and that Chuck already thought of it.
Gossip Guy: Wow, hands down, no one made me laugh as loud as Eric's reaction to when he saw Lily and Rufus making out. "I would say 'get a room,' but yours is right above mine. Please try to remember that." Amazing.
2. Did you like the mostly lighter feel of this episode?
DANdy: Not when it involves an utter lack of Blair and Chuck interaction. Chuck may not be on his deathbed any longer, but I miss him teasing Blair in her sleeping one.
Mister Meester: I enjoyed the return to more traditional high school topics like college admissions, albeit with a uniquely Gossip Girl twist. If people were hooking up, being blackmailed or killed off in every episode, well, we'd have The OC.
Gossip Guy: Well, I'm not sure how light you can consider an episode that has the subject of rape, but other than that I did enjoy the episode being a little goofier than the recent dark episodes. I loved seeing Blair's reaction and war being handled in the way Gossip Girl should, in a light-hearted way.
3. Most hard to believe Yale plot development: Blair's chances threatened by one B; Students learning of their fate via text message; Serena getting in period?
Mister Meester: The B. I'm sorry, but everyone on Yale's waiting list must have a perfect GPA. It's all about extracurricular activities and bribes at this point. On a similar note, how can the school discipline Blair for something she did in her personal life - and moreover, why would Yale know or care if they did?
Gossip Guy: Serena getting in. How far off the pages of Page Six must Serena be at this point? The girl would have fallen off the celebrity gossip radar by now and off the dean's list for sure. In the Gossip Girl universe all things are handled via text message and I hear colleges are getting more and more competitive by the season... err, year.
DANdy: The text message. I was expecting Yale's Facebook mood to deliver the news. "Yale is letting in Dan Humphrey, Serena Van der Woodsen..."
4. Nate letting Vanessa buy the opera tickets when he owns a box: Sweet or stupid?
Gossip Guy: Stupid. Why would you ever go out of your way to let Vanessa feel useful? I would have just rubbed my seats in her poor, useless face. Kidding, very sweet Nate.
DANdy: Sweet, followed by stupid. Why didn't those two scalp the box tickets? They could have made serious buck with those seats!
Mister Meester: Sweet. It shows he likes V a lot and being a sensitive guy, didn't want to make her feel inferior. Great scene when he laughed at that coughing old woman.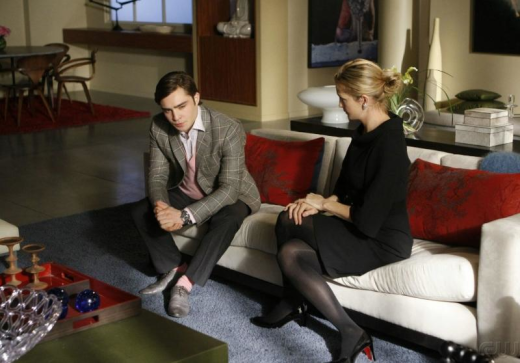 Chuck Bass and Lily van der Woodsen share a lighter, wonderful moment.


5. Is Chuck Bass the best character on television?

Gossip Guy: Each week this title is a toss up for me between Gossip Girl's Chuck and Barney from How I Met Your Mother. However, Chuck easily secured this position this week when he not only teamed up with Lily to successfully take down the Jack (B)ass, but then rescued her from rape, and THEN had the emotional moment of the decade when he asked to move back home. God I <3 Chuck.

DANdy: Dr. Gregory House would have something bitter and witty to say about that.

Mister Meester: He's one of them. Sort of like Ben from Lost, the many sides of the enigma that is Chuck Bass continue to reveal themselves, and are a joy to watch.

BONUS QUESTION: What's in store for Rachel and Blair - and Rachel and Dan?

Gossip Guy: Oh Rachel, didn't you realize you were given a free pass by Blair when she apologized? Do you realize how big of a deal it is for her to admit she was wrong and cancel the plan? By calling the dean up now you are in for it. Who knows how long your job is safe. Now for Rachel and Dan, I unfortunately see the end of Derena as a result. I keep saying it each week, but their relationship is too weak right now and a girl sharing the same interests as Dan? Trouble from that flirty little teacher.

DANdy: Blair will - gasp! - tell Rachel to arrive 90 minutes late for next week's ballet. Dan, meanwhile, will fall hard for Rachel... until he remembers Serena's breasts.

Mister Meester: Given that the next episode is hilariously called "Carrnal Knowledge," my guess is that Blair will go undercover to gather intelligence on Rachel's personal life, and/or Dan will hit that.

~~~~~~~~~~~~~~~~~~~~~~~~~~~~~~~

What is your take on these hot Gossip Girl topics? Leave a comment with your answer(s). We want to know what you think!


Steve Marsi is the Managing Editor of TV Fanatic. Follow him on Google+ or email him here.

Tags: Gossip Girl, Round Tables