Rest easy, Southland fans. The show is pretty much assured a spot on NBC's fall schedule.
Asked about the prospects of a second season for the drama, star Regina King told E! News:
"We are feeling positive. We're getting really great feedback. The reviews have been good, but it's not the reviews that make us feel confident. It's the fact that all of us have had at least nine or 10 instances each where we've been in the grocery store or the car wash and someone has been like, 'Oh my God, I love that show!'"
This is encouraging news, indeed.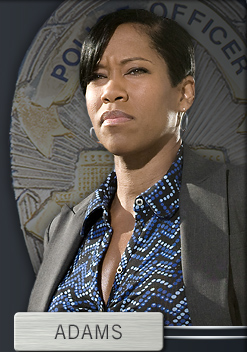 As for the rest of this season on Southland, here's a look at what's to come for various characters:

Officer Sherman: Benjamin McKenzie recently spoke on the appearance of this cop's father:

"They don't have a very good relationship. They don't really have much of any relationship. A lot of who the character Ben has decided to become as a man, or who he'd like to become as a man, is directly related in opposition to his father. So you'll see it come to a head."

Officer Cooper: "It's going to evolve. A lot of questions will be answered, and new questions will arise," said Michael Cudlitz on his character's gay storyline.

Detective Adams: Will love be in the air for King's character? "She does actually have some interaction with a man. It happens over two episodes. As the episodes unfold, more of her life outside of being a detective and how being a detective affects that life [is shown]. She loves her job, but it's not the best for her love life," the actress said.

King also said the relationship between Adams and her partner, Russell Clarke, will become more of a focus:

"Since Lydia hasn't had success in the love department, and she sees him and his wife starting to drift apart, it pisses her off. Russell and Lydia are very close. You do get a chance to see that we are more familiar probably than any of the other partners on the show."

Matt Richenthal is the Editor in Chief of TV Fanatic. Follow him on Twitter and on Google+.

Tags: Southland, Spoilers