Scrubs is definitely returning for a ninth season.
But loyal viewers of the show will be in for drastic changes when it airs this fall on ABC. Series creator Bill Lawrence has confirmed that the comedy will shift from the hospital to the classroom, as John C. McGinley's Dr. Cox and Donald Faison's Turk will become medical school professors.
"It's going to be a different show. It'll still be life-and-death stakes, but if the show is just Scrubs again in the hospital with a different person's voiceover, it would be a disaster and people would be mad," Lawrence told Entertainment Weekly.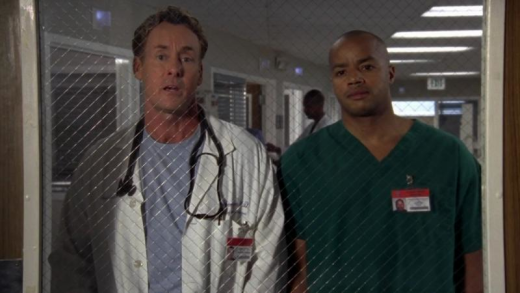 A sitcom centered around Dr. Cox and Dr. Turk? Count us in!

Sacred Heart won't disappear, however.

The hospital will no longer serve as the show's focus, but various students will rotate there, running into a few familiar faces along the way. While McGinley and Faison will be full-time regulars, Zach Braff, Sarah Chalke, Judy Reyes and Ken Jenkins will appear occasionally.

"Med students in their first three years have to spend anywhere from 10 to 50 percent of their time at a hospital," Lawrence said. "And that's when you'll see some of the [original cast members]. Continuity-wise, Sacred Heart will still exist with those people still working there."

Lawrence also teased a big name as part of the revamped cast.

"Half the cast, if not 60 percent of it," will be comprised of new characters, the creator said, adding that one of then will be more recognizable than the rest.

"[ABC] is really after us to hire a big name. So one of them will be fairly famous."

Matt Richenthal is the Editor in Chief of TV Fanatic. Follow him on Twitter and on Google+.

Tags: Scrubs, Spoilers