It's official, even if Michael Scott doesn't know yet.
Pam Beesly and Jim Halpert from The Office are tying the knot this season, midway through Pam's pregnancy. Jenna Fischer broke the news to TV Guide.
She's being fitted for wedding gowns with room for a baby bump!
"The plan is for Pam and Jim to get married in the fourth episode," she said from The Office set, where production on Season Six began last week.
Writers are still working out the details, but Jenna Fischer said, "It's going to be a destination wedding, probably Niagara Falls. Because, by making it a destination wedding, the hope for Pam and Jim is that nobody from the office will come."
Hard to fault that logic. Although The Office quotes wouldn't be nearly as good if none of them made it, so we're guessing at least a few stragglers do.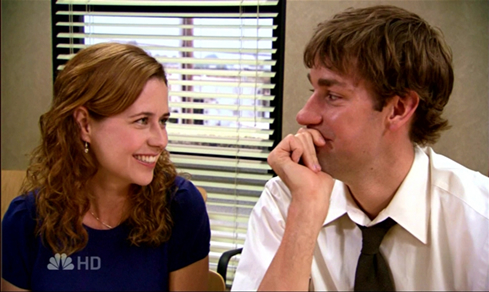 Although Pam is pregnant, and will be around four months so when the show returns on September 17, Michael Scott will be clueless. Is anyone surprised?

"We're keeping it a secret from Michael for a couple reasons," said Fischer, who recently announced her own engagement to screenwriter Lee Kirk.

"First, Jim (John Krasinski) and Pam aren't married yet, and also, just, you know, it's Michael Scott we're dealing with here."

Indeed. Fischer, meanwhile, is happy to be back at work - especially since finally she has a better desk, thanks to Pam's promotion, this season. "They moved me from reception to a desk next to John and Rainn Wilson and it's so much better," she said.

"It was like I was stuck on an island over at the reception desk. Now I'm between two of the funniest guys on TV and we laugh all day long."

Asked if she's certain that Jim is the father of Pam's baby, Fischer said, "What, do you think this is? Grey's Anatomy? Pam's a one-man woman, without a doubt!"

Steve Marsi is the Managing Editor of TV Fanatic. Follow him on Google+ or email him here.

Tags: The Office, Spoilers