The Office returns tonight, and when it does, new receptionist Erin will be back at the helm. But while she has Pam's job, she couldn't be less like her.
While Pam has been there long enough to be at least somewhat jaded, "Erin is naive and thinks the office is just the most wonderful place on Earth."
So says Ellie Kemper, 29, who plays Erin Hannon.
Kemper recently chatted with TV Guide about a new season that promises to bring drama, a wedding, shake-ups and The Office quotes that are too funny.
Here are some excerpts from her interview ...
Q: How does it feel being the new girl?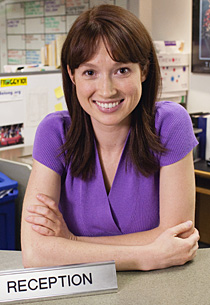 A: The cast, crew and everyone is so welcoming. I can't imagine a friendlier group of people. Being the new girl on the set couldn't be easier. Being the new girl in the show is a great position to be in because Erin is not jaded by anything.

Q: You are known as the new Pam. Are we going to see any comparisons?

A: It's totally different... I think that the personalities are just very different. Pam has evolved into this more confident, self-assured person. Erin dresses sort of frumpy, she's new and bright-eyed. I'm interested to see how she develops.

Q:

Both Dwight and Andy were vying for your affection last season. We hear you'll just be Andy's

love interest

this season.

A: Yes. A love connection starts to develop between Andy Bernard and Erin. Andy initiates it and pursues it. In some of the stuff we've shot already, we begin to see that play out, but it's certainly not fully formed yet.

Q: Is Erin as sweet as she seems?

A: Unfortunately, at this point, she does seem to be as sweet as she seems. I am hoping that we start to discover some huge shortcomings in her. As of now, where we are in the shooting, she maybe hasn't discovered whatever evil she might be capable of.

Q: Will Erin get to bring out her funny side this season?

A: I'm happy about that question. I'll say this, there's more dancing going on this season. People asked me after [the "Cafe Disco" episode] if it was really me dancing. I think I'm not a good dancer. My dancing is funny. There is more dancing.

Q: How is the Dunder Mifflin dynamic going to change with Jim and Pam getting married and having a baby?

A: It will be interesting to see what happens once she has the baby. Does Pam bring the baby to work? We've only shot one episode past the wedding, so there's a lot more to come with Jim and Pam being married in the office.

Steve Marsi is the Managing Editor of TV Fanatic. Follow him on Google+ or email him here.

Tags: The Office, Interviews