Another week, another fabulous episode of Glee, another Round Table from our staff of writers.
Soon after each installment of this great Fox series, we'll analyze various plot points, songs and developments. We encourage readers to chime in with comments and answer the questions below, as well. Let's get to it!
What was your favorite performance from the episode?
A. Cheerio: It's gotta be "Poison." Did anyone else see the Scrubs episode from years ago when Turk danced along to this same song? The Acafellas may have done an even better job.
BerryTalented: Clearly Mercedes' version of "Bust Your Windows." Yikes. Remind me to never get on her side. What a great voice, and what an intense star when she gets mad!
FinnFan: I'm sorry, but Finn AND Will singing a rendition of "I Wanna Sex You Up"?!?!? It's like they were reading my mind. Easy winner.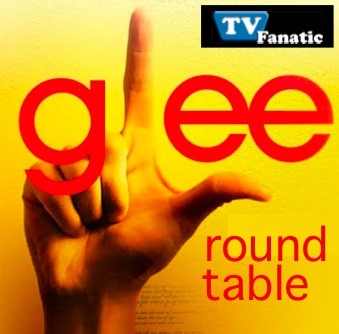 Who did you feel worse for in the episode: Kurt or Sandy?
A. Cheerio: Kurt. I still have tears in my eyes from his admission to Mercedes. What made that storyline so upsetting was just how much it rings true. I'm sure there are countless teenage boys struggling with the same issue.

BerryTalented: Definitely Kurt. I felt badly for both him and Mercedes in that scene. They are both outcasts and both so symbolic of how difficult high school can be for those that aren't attractive or aren't jocks. Sadly, it brought back memories for me.

FinnFan: The obvious answer would be Kurt, but I'll be different and go with Sandy. While played for most comedic purposes, that was actually a very sad moment, when Josh Groban went off on Sandy. It's tough when we realize our role models are not what they seem.

More adorable: Emma, or Will's dad in a bow tie?
A. Cheerio: Haha, as a former fan of Alias, I've gotta go with Will's dad. Those of us who watched that Jennifer Garner show would never have been able to picture Victor Garber in this sort of outfit. He looked great.

BerryTalented: I can't get enough of Emma (not Irma, Sue!). She's got the cutest smile and my heart just breaks watching her pine after Will.

FinnFan: Emma. Jayma Mays is ideal for this role. I'm just glad we have her around for more than a couple of episodes. I was so sad when Heroes killed her character off.

What will happen with Terri's "pregnancy?"
A. Cheerio: I don't know, but thank goodness the show made her more likable this week. It has to give us some reason why Will would be with her.

BerryTalented: You saw how much she and Will were getting it on, right? Like once per week! She'll get knocked up for real soon enough.

FinnFan: I can only hope she comes clean, Will leaves her and he and Emma get together to form the cutest couple in TV history.

Matt Richenthal is the Editor in Chief of TV Fanatic. Follow him on Twitter and on Google+.

Tags: Glee, Round Tables