Eastwick Recap: "Fleas and Casserole"
at . Comments
There are plenty of shocking moments on this weeks episode of Eastwick. The girls seem to be delving more and more into the mysterious celtic symbol - even if at this moment they seem not too concerned.
Trouble brews for Joanna as the man who dumps her at the alter arrives in town the day before her big date with Will.
Roxie's visions of her neighbor Jaime keep coming back - this makes her determined to find out about who he is and where he comes from.
Kat and Raymond start to go at it in a nasty divorce battle for custody of their children. With Darryl's savvy NY lawyer's help, Kat can win it all, but at what price?
Read our full summary to find out all the shocking details of this weeks episode, "Fleas and Casserole."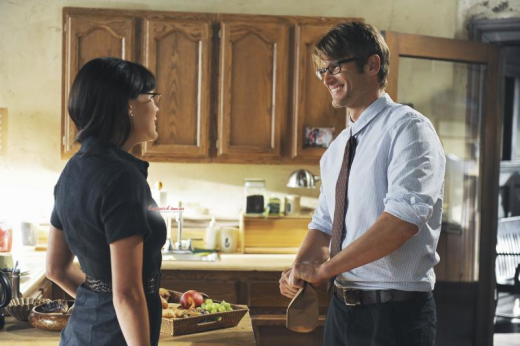 We leave you with a few of our favorite quotes:
Joanna: (talking about her ex-fiance Morgan) Penny, that man took six years of my life! I thought we were soulmates and then he pooped on my heart. | permalink
Penny: (to Joanna) I'm buying you a muzzle. | permalink
(Roxie measuring Darryl for the sculpture)
Darryl: Oh, I think you are going to need a larger tape. | permalink
Penny: It's like the hokey pokey - emphasis on the pokey. | permalink
Tags: Eastwick
Want more Eastwick?
Sign up for our daily newsletter and receive the latest tv news delivered to your inbox for free!