Puck and Rachel?
A soft side to Sue?
A near-kiss between Will and Emma?
There was plenty to analyze on last night's episode of Glee, so let's get right to it in this edition of the Round Table!
More surprising of a hook-up: Puck and Rachel, or Sue and anyone?
A. Cheerio: OMG, Puck and Rachel! I'm a loyal Jew, but I still didn't see this make-out session coming. Come on, Rach. You can do so much better.
BerryTalented: I had no idea Sue had a loving bone in her body. Who knew Battleship was the way to her heart? Or to other body parts? Yech. I just grossed myself out.
FinnFan: What about Sue and Will?!? They didn't get together, but they did get along. I loved seeing those two dance together. I can't get enough of their scenes.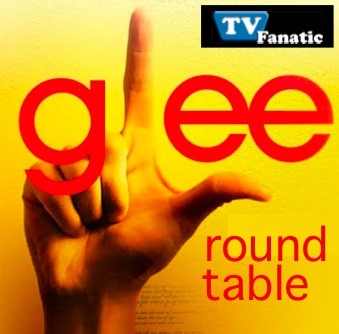 What was your favorite musical number from the episode?
A. Cheerio: Many great options, but I'll go with Will's version of the Thong Song.

BerryTalented: They didn't play a lot of it, but I loved Rachel's rendition of "What a Girl Wants." As my moniker might give away, I think that girl is ultra talented.

FinnFan: D'uh! Bust a Move! Just when I thought this show couldn't get any cooler, it busted out with one of my favorite songs from back in the day. I can only hope this leads to a Young M.C. comeback!

Do you feel bad for Quinn?
A. Cheerio: Sorry, but no. What goes around comes around. Let's not forget about how cruel she was when the show premiered.

BerryTalented: She's young, pregnant and under the impression that donning sunglasses makes one feel cool. Yes, I feel bad for her.

FinnFan: I feel worse for Terri. At least Quinn isn't totally and utterly insane.

There was no Terri Schuester last night. Did you miss her?
A. Cheerio: Yes, like I miss the chicken pox! For a show that has done so much right, it's very strange how it whiffed so badly on this character.

BerryTalented: I missed her... but only because Terri's presence simply makes Emma that much cuter and more appealing for Will. We don't need the contrast, by any means, but it's nice to see.

FinnFan: Terri has to end up with Ken. They are both pathetic in their own ways, and neither is a big fan of the glee club. If this happens, you heard it here first!

Matt Richenthal is the Editor in Chief of TV Fanatic. Follow him on Twitter and on Google+.

Tags: Glee, Round Tables