Welcome to the Gossip Girl Insider Round Table!
With our How to Succeed in Bassness" include the two sides of J, a missing V, various plot holes and the major backstabbing yet to com ...
~~~~~~~~~~~~~~~~~~~~~~~~~~~~~~~
1. What was your favorite Gossip Girl quote from the episode?

DANdy: Any time Dorota offers chess advice, while vacuuming Blair's dorm room, she'll earn this honor.
Gossip Guy: I loved all the Endless Knights lines throughout the whole episode but if I had to give an exact quote, it'd be the dialogue between KC and Serena at the end of all people. Serena claiming dating Roberts wouldn't be work and KC saying to call her after the second date. That tugged at my funny strings. Whatever those are.
Mister Meester: Blair's offer for Serena to help publicize a "members-only club SO exclusive it makes the SoHo house look like one of those dirty public schools with numbers for a name." So rough, in a hilariously condescending tone.
2. Do you prefer wholesome Jenny or Jenny the bitchy sellout?
DANdy: Can we see a photo of each option before deciding? I'll go with whichever Jenny wears less make-up.
Gossip Guy: Definitively wholesome Jenny. I've never been a huge fan (don't get me wrong, she's still 10,000 times better than V), but my favorite part about Jenny has always been her friendship with Eric. I can't believe she'd sell the poor kid out.
Mister Meester: It sucks to watch J ditch Eric for those losers, but watching her internal conflict is pretty compelling. At some point, the good Little J will prevail. Meanwhile, at least mean girl Queen J is making things interesting.
DANdy: Yes. Just a pinch of that stuff made me feel reinvigorated and alive! (There's gotta be at least one True Blood fan here, right?)
Mister Meester: You know, I haven't been as down on Vanessa this season as most. However, I do like how the show will leave people out (be it V or whomever) rather than trying to force them into filler. Last night's Rufus-Lily plot excluded.
Gossip Guy: LOL.
4. How long will Dan make Olivia levitate ... if you know what we mean!
Gossip Guy: From all the experience he's gotten with Serena, I'm guessing Dan will crush Patrick Roberts' record. Of course, I don't know what an impressive levitation time would be, so let's just go with all night long!
DANdy: For however long she claims he did. Seems like Dan will just go along with whatever Olivia says, doesn't it? You weren't dating your co-star? Okay, phew! Oh, you were? Okay, no worries!
Mister Meester: How will he know? Clearly she's good at faking it.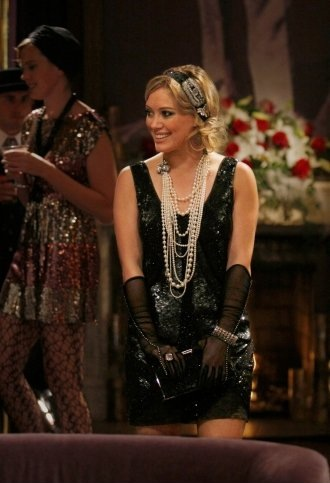 Dan hit it last night. But what does the future hold for Bumphrey?


5. Biggest plot hole of the night: Serena getting mad at Blair when plan ended up getting her clients good PR, Blair involving Jack in any way, or Chuck's decision to have his own club raided?

Gossip Guy: Absolutely Chuck having his own club raided. I still don't think police raiding your club would ever make people want to stay in your hotel. News flash Gossip Girl, people try and avoid the cops.

Mister Meester: Jack being involved. B had to know that would backfire on Chuck. Unless that was her entire agenda, in which case it also wouldn't make sense. After what he went through with Jack, she wouldn't pull that, would she?

DANdy: Nothing about Chuck's club made sense to me. Raiding his own club, in order to beat Jack to that punch, was fine. But he and Blair acted like it was some ideally devious, productive plan that will help the club in the long run. Hard to see how half a year without a liquor license will do that.

BONUS QUESTION: Next week's promo promises scandal, backstabbing, lip service, deceit and mud-slinging. Share your predictions.

Mister Meester: Clearly Nate's grandfather will stop at nothing to help Tripp get elected, but how Serena and Blair fit into the mix remains to be seen. I'm going to guess that Blair schemes to get back at S and pays the price.

DANdy: I've gotta imagine the scandal will involve Serena's low-cut dress; the lip service will involve the drool dripping from the mouths of male viewers and the slinging will be focused on the mud from her wrestling match with Blair.

Gossip Guy: Oh boy, mud-slinging can only mean one thing, more of Nate's lame political story line. But, OMG, did anyone else see Blair getting her face shoved in a cake in the promo? It was a brief second so I could be making this up.

~~~~~~~~~~~~~~~~~~~~~~~~~~~~~~~

What is your take on these hot Gossip Girl topics? Leave a comment with your answer(s). We want to know what you think!


Steve Marsi is the Managing Editor of TV Fanatic. Follow him on Google+ or email him here.

Tags: Gossip Girl, Round Tables