Cote de Pablo hails from the nation of Chile, whereas her character on NCIS, Ziva David, is of Israeli descent. Only one of them is a trained killer with ice in her veins.
Still there are parallels between the two, as TV Guide learned, not the least of which being their sober professionalism in the face of certain people's goofiness.
Yup, we're talking about both Michael Weatherly and Tony DiNozzo. Below are excerpts from the magazine's recent Q&A with the super-serious special agent.
Q: So Ziva gets to be "probie" for a while now?
Cote: Wellll, as probie as Ziva can be. She gets teased specifically by DiNozzo, who just finds it the funniest thing in the world. But it bothers her tremendously.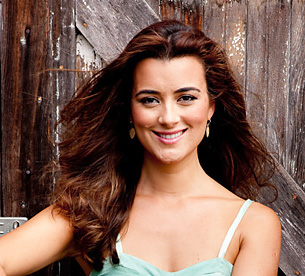 Q: You were the last major piece of the NCIS puzzle, at least for the core group. You've been here four years now. How long did you feel like a probie?

Cote: I never felt like a probie on this show. I always felt I belonged, like I was just a part of it from the very beginning, as soon as I stepped on set. I never viewed it as anything else but "This is my role and this is my family and this is what I do."

Q: Your character has gone through some attitude changes lately, from angry and defiant at the end of Season 6 to repentant at the beginning of this one.

Cote: Yes, [Ziva's] got what I think you could call anger issues. She thinks she's been betrayed by her family, particularly her father. That's a big deal to her. Which would also explain her love and relationship with somebody like Leroy Jethro Gibbs (Mark Harmon).

Q: Can you describe the screen test that got you the job?

Cote: hen I came in and did my audition, Michael Weatherly went off script, and I just thought "Oh my God, this guy is sabotaging my audition!" And I immediately perked up and went "I will not allow this actor to do this to me."

So what people saw in the audition room really was a person fighting the other person back and refusing to give even an inch. He was trying to flirt with me. He grabbed my face and said, "You know, you look so much like Salma Hayek."

I thought it was disrespectful and completely unprofessional. It was just all the things that I think later on translated to the relationship that Ziva and Tony had and still have.

That's what makes that particular dynamic interesting.

Q: Did Michael do that with the other actresses or just you?

Cote: No, he totally did it with the other actress. One other girl sort of flirted back with him, and she was sort of open. Which is what actors do! They're sort of open. But I got lucky and got the part because I responded the way they felt was right.

Q: The "Tiva" love/hate conflict seems to be going a little bit more on the back burner. Undoubtedly it'll always be part of the dynamic between you and Michael.

Cote: I don't think this relationship's ever gonna be resolved. And I think fans will always find things that will make them kind of sway their opinion as to where they think that relationship will go. We never have an idea of where this relationship is gonna go.

Q: The bathroom scene you had with him in the second episode was terrific.

Cote: It was fun. Bathroom scenes are always fun. Well, they're always fun because they always just so happen to be with Michael. Those scenes for me are loaded with emotional stuff. These characters have gone through so much together.

Steve Marsi is the Managing Editor of TV Fanatic. Follow him on Google+ or email him here.

Tags: NCIS, Interviews