Well, that was a major letdown.
The CW hyped this episode of 90210 like it would be an hour of fun-filled, Ocean's 11-style revenge against Jen. Instead, Dixon, Liam, Teddy and Ivy simply lured Naomi into a room and ensured that she overheard her sister's sex confession.
It really wasn't that incredible of a plan; far from it, in fact. Somewhere, Danny Ocean is shaking his head in disappointment.
The revelation that Jen slept with Liam does have interesting, long-lasting ramifications, at least. Read our full recap of "And Away They Go" now and see what we mean below...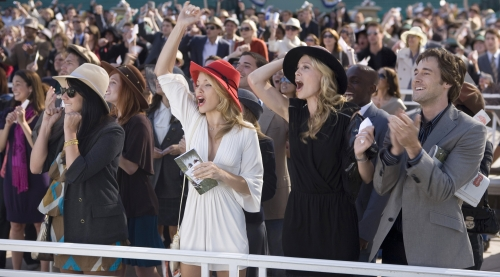 Naomi and Annie: Friends again? We actually prefer these two as enemies, but Annie has been on her own (and stuck in an increasingly boring relationship) for far too long now. It will be nice to see her back in the main fold.
Liam: A wanted man? We're not exactly sure what the appeal of this brooder is, but both Ivy and Naomi are clearly after him now. As we discovered near the end of this episode, Ivy knows how to play dirty. Let the games begin! (And let's hope they're more exciting than this week's lame game at the track.)
Ryan and Kelly: Back on? Mr. Matthews finally saw the evil light and kicked Jen to the curb. It never made sense why these two were dating anyway. Might he go after Kelly again? Do you want him to?
Join fellow fans in our 90210 forum and discuss the episode at length.
Let us know: are you sad to see Sarah Foster go? Were you hoping she'd remain part of the 90210 cast? Is the show now in need of a new villain?
FOLLOW THIS ARTICLE'S JUMP FOR A LOOK AT OUR FAVORITE QUOTES FROM THE HOUR.
Which of these 90210 quotes was your favorite?
Naomi: I lost the person I love most in this world. Now, all I have left is a horse. | permalink
Adrianna: Being sober for me will be a lot more than not taking drugs. | permalink
Jen: I thought you said if I was honest with you, there was nothing I could do to scare you off.
Ryan: I was wrong. | permalink
Liam: We don't wanna be a couple couple.
Ivy: So don't Tweet about it, pretty boy. | permalink
Silver: Is it bad we left the Shiva?
Naomi: They covered all those mirrors, which was just rude. | permalink
Adrianna: How are you feeling?
Navid: Worse than I ever felt in my life, but not bad. | permalink
Matt Richenthal is the Editor in Chief of TV Fanatic. Follow him on Twitter and on Google+.

Tags: 90210, Reviews
Want more 90210?
Sign up for our daily newsletter and receive the latest tv news delivered to your inbox for free!
More From TV Fanatic
Usually it's insults that get tossed around on The Real Housewives of New York City Season 6 Episode 20 but Aviva threw out a leg. Her own! On the dinner table. We attempt to make sense of the nonsense in our +/- review.
On Perception, Daniel and Kate try to track down a missing baby. Kate also must deal with Donnie's talks about their own future children.
Aria finds some interesting clues as she begins volunteering at Radley while Hanna continues to struggle with Alison's return.
With Maura away, Jane must rely on Susie's help to solve the perfect murder on Rizzoli & Isles.
---