We had almost given up on FlashForward.
Our staff hasn't gathered for a Round Table discussion on the show in weeks because we were too let down by each episode to muster the energy.
But that changed with this week's episode, as it's given us plenty to analyze until FlashForward returns on March 4. We encourage viewer feedback on the topics below...
Which cliffhanger has you more excited for FlashForward's March return: Lloyd's kidnapping; Mark's firing; or the D. Gibbons sighting?
M.L. House: Lloyd's kidnapping because it serves a duel purpose: first, there's the intrigue of who took him and why. But there's also an answer to a pressing question. We now know how Dylan is familiar with the Benford house, via his flash forward. I assume Olivia will now take him there to stay.
Dr. Shepherd: Mark's firing. I'm excited to see how this changes the future, so to speak, but not as excited as I'd be if Joseph Fiennes himself got fired. Writing off the main character would be a great twist ... especially in this case, since he's kind of a stiff.
The Barnacle: D. Gibbons! Finally, after introducing mystery bad guy after another and then having them fall off the face of the earth, the producers provided us with a D. Gibbons sighting AND a link to Demetri's mystery phone caller! That was, dare I say, a Lost-esque twist at the end, leaving me wondering just how those two are connected.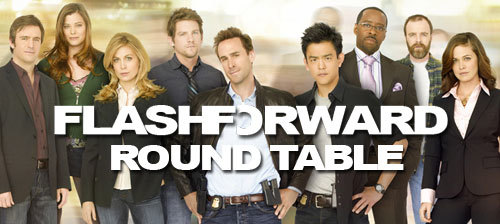 As Lloyd hinted at, might the flash forwards be related to his alternate reality theory?
M.L. House: No chance. He just used that theory to get closer to Olivia. The guy isn't Tiger Woods. He has to go with romantic, highfalutin flirting in order to get into women's pants.

Dr. Shepherd: At first, I felt Lloyd and Simon's "confession" was a bit abrupt and once again provided little explanation of what the hell happened. But his alternate reality theory was truly intriguing. If the flash forwards weren't glimpses into the future at all, but rather alternate realities, that would alter the entire nature of the show, providing the viewers an alternate reality of our own.

The Barnacle: While confusing as all get-out, this might actually make more sense than a flash forward of human consciousness. If their experiment was meant to harness the same kind of energy that caused the Big Bang, and thus created the universe, perhaps what we saw was a two-minute, 17-second window into some other reality. Olivia's story about almost going to Harvard (where Lloyd met his wife) would fit into this as well. In some weird, alternate universe, maybe she and Lloyd got married and Dylan is their son. Fascinating. 

Choose a side: Team Lloyd or Team Simon?
M.L. House: Team Great Britain! Always overlooked as a super power, give it up for the country whose citizens helped create mankind's most deadly disaster!

Dr. Shepherd: Team Lloyd. Simon is as diabolical as it gets! The one downside of last night's terrific episode, in my opinion, was how easily he talked Wedeck into bringing him on board. The fact that his partner admitted killing 20 MILLION PEOPLE didn't raise any red flags, Stan?

The Barnacle: Team Simon. Skpetical as I was that Dominic Monaghan could actually sell us on an evil guy (or at least a shady, mysterious character), his bad, mad scientist steals every scene he's in. Now if he can only pull double duty this spring by returning to the island as Charlie somehow. Sorry for two Lost references in one Round Table ... can you tell I'm excited for that show to come back too?

Who the heck is Nhadra Udaya?!?
M.L. House: On one hand, she somehow had answers about Demetri's death. On the other, she somehow has her own Benford-like board. So, in conclusion: I have no idea.

Dr. Shepherd: She's gotta be a terrorist mastermind of some kind. That voice alone is the scariest thing ever

The Barnacle: She's the main villain, I'm calling it right now! She's manipulating Mark, Demetri and even D. Gibbons by feeding them misleading information and trying to make the future play out according to her evil agenda.

Matt Richenthal is the Editor in Chief of TV Fanatic. Follow him on Twitter and on Google+.

Tags: FlashForward, Round Tables