We know this review is a couple days late, but it took us this long to stop crying after watching the latest episode of Friday Night Lights.
Tears dry, we can discuss "The Son" at length and actually see the computer screen as we type.
We joke, but we're also deadly serious. What an incredible hour of television, as Friday Night Lights took what could have been a cliche-ridden event and turned it into an example of why this show is unlike any other.
How many programs have dealt with the death of a loved one? There's crying, there are speeches, jokes, a funeral. By the end of the episode, characters have typically gone through the stages of grief and are ready to move on.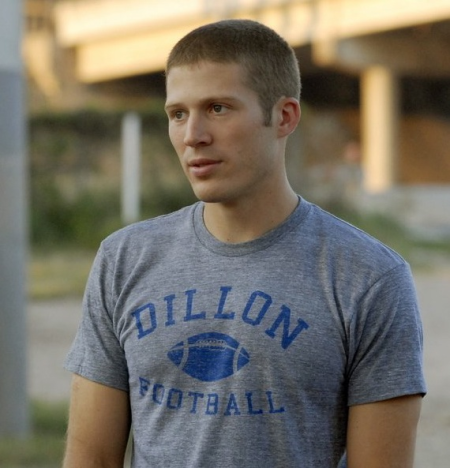 But that's not what happened here.

Due to the documentary style of the show, it truly felt like a camera had subtly been placed around Matt Saracen and viewers were witness to true, raw emotion. That's what makes Friday Night Lights so special. You sincerely feel like you are part of the Taylor household, you feel like you're on the field of play and, in this case, you almost feel like your own father died.

Zach Gilford, unfortunately, is still leaving the show shortly. But "The Son" made his brief season four run worthwhile. He nailed every scene and every emotion, from Saracen's attempts to be polite to mourners such as rambling Buddy Garrity to Saracen's breakdown with the Taylors.

While Saracen was the focus, his grief was also used to showcase the reactions of others. We saw Riggins deal with the fact that a football field beerfest isn't always the answer; we saw the door get closed in phony Joe McCoy's face; we saw Tami calmly handle the burial arrangements and Eric simply offer to walk Matt home.

That final example also illustrates what makes Friday Night Lights so real. How many other shows would have had Eric give Saracen some corny pep talk? The moment is made for an actor's Emmy reel.

But a major reason why this show has never been nominated for any awards is because it doesn't give in to those opportunities. As a coach and a father, Eric knew there was nothing he could say at that time. So he went with a simple gesture to show his support. It was perfect in every way.

Emmy voters may never take notice, but any fan of great television won't be able to hold it together when watching this episode.

Matt Richenthal is the Editor in Chief of TV Fanatic. Follow him on Twitter and on Google+.

Tags: Friday Night Lights, Reviews