The first NCIS of the new year did not disappoint, as it gave McGee the chance to let his inner McGeek run wild on a case involving a dead Navy pilot and a mysterious jet pack.
Also intriguing? A new story arc for Gibbs that is just getting started. A ruthless female lawyer representing some of the suspects in the case turns out to have ulterior motives.
For the basic plot outline, here's our episode guide. Below, we review "Ignition" ...
The case was tailor-made for McGee as much as any murder could be. The guy loves science, and even does powerpoints on jet pack technology for fun in his spare time.
Fittingly, Gibbs gave McGee the lead on the investigation, and he sought to find out how a Navy pilot got his hands on a jet pack, while Ziva and Tony rounded up suspects.
The investigation leads to Victor Tillman, a CEO of a private aviation company, and his ex-wife, Vanessa Tillman, his former CFO and now the head of a bitter rival company.
The pilot, Lt. Brad Sayers, was demoing jet packs for both.
Tony and Ziva played second fiddle(s) to McGee this week.

This was compelling as the NCIS team was convinced both sides were playing them, while it turned out Sayers was really playing the Tillmans. And then there was Mallison.
That's what Ziva called M. Allison Hart, not noticing the period. Hart, a lawyer, first showed up to rep one Tillman and then the other, stymying "Mister" Gibbs at every turn.
The sparks between Hart and Gibbs left us excited to see where it leads. Gibbs is attracted to her, confused by her motives and repulsed by her meddling at the same time.
Meanwhile, Ducky determines that Sayers was poisoned before he crashed the jet pack and died, and McGee thus deciphers that they've been barking up the wrong tree.
Why would the Tillmans kill their test pilot, even if he was stealing secrets from them as McGee believed? Moreover, how could he have flown the jet pack while ... dead?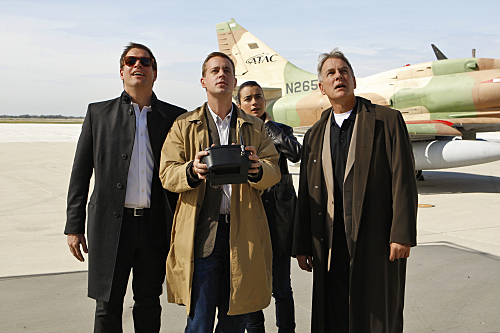 McGee reins in the jet pack killer. Almost literally.

It turns out Sayers' commanding officer, Captain Powell, was working with Sayers to steal techology from the Tillmans while using Navy engineering to build their own pack.

That jet pack what Sayers had been flying - and what we got to see Powell use in an ill-fated escape attempt, which was simultaneously a bit hokey and completely cool.

We could only imagine McGee's delight as he brought the Captain down to earth (literally) with the remote control he used to make Sayers' death look like an accident.

Awesome work, McGeek. Not the most elaborate mystery ever solved by the team, but flawlessly executed by the NCIS cast with trademark wit and humor as always.

Meanwhile, Gibbs does some digging and learns that Hart us connected to Colonel Merton Bell, the paramilitary mogul who went after Mike Franks in "Outlaws and In-Laws."

NCIS took him down then, but the Mexican authorities let him off the hook and now he's using Hart to go after Jethro. What's Mallison's next move? Stay tuned ...

Steve Marsi is the Managing Editor of TV Fanatic. Follow him on Google+ or email him here.

Tags: NCIS, Reviews