Ugly Betty Review: "The Passion of the Betty"
at . Comments
Last night did not disappoint with the return of Ugly Betty. C'Mon people! Gather your friends around the boob tube to start re-watching this beloved show! As sad as we are to see Eastwick take the ax, it is so nice to have Betty following two of our favorite shows: Modern Family and Cougar Town.
Jesse Tyler Ferguson from Modern Family made a cameo as Dr. Farkas and as great as it is to see our favorite red head, we don't believe him to be even the slightest bit straight! Stick to your own much loved show plaaahleese!
Betty seems to have it all - the great job, the amazing family, and the handsome - rich boyfriend who is totally in love with her, but as fate has it, all is not what it seems. 
Matt really shows off his psycho side...err artistic side with his crazy obsession with her. Pretty much all his artwork is somehow related to Betty. This guy really needs to get a new love in his life - quick!
Lucky for Betty, it looks like Matt has come to his senses towards the end of the episode. We really like this pairing and can't wait to see some more make-out sessions between these two sans braces!
Here are a few of our favorite segments from last nights episode "The Passion of the Betty":
Marc has a boyfriend! Even though it looked like it was about to come to an end, Marc gave into Troy's adoration.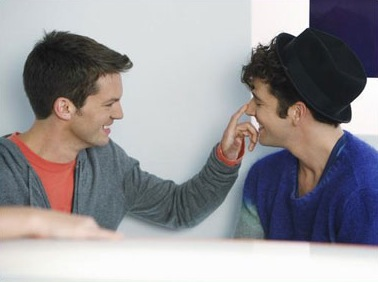 Wilhelmina is back! Thanks to the help of Daniel and Claire our favorite villain wasn't gone from Mode very long.
Hilda is preggo! Not only did she get herself knocked-up, but she ditched the fugly Senator for a much hotter new boyfriend. Go Hilda!
There were so many great one liners! Here are a few of our favorite Ugly Betty quotes from last night:
Troy: (to Marc) Look at you, you're an Adonis. You're like a gay Hugh Jackman! | permalink
Amanda: (to Mark about Troy) No! He is imprinted on you like a gay duckling. If you don't wean him off you slowly, he'll die. | permalink
Betty: Oh my lover is good!...At painting! | permalink
Amanda: (about Claire's whereabouts) How would I know what she was doing in South Dakota? I don't even know where that country is. | permalink
Tags: Ugly Betty, Reviews
Want more Ugly Betty?
Sign up for our daily newsletter and receive the latest tv news delivered to your inbox for free!
More From TV Fanatic
On Murder in the First, Cindy's husband ends up dead and that forces the police into overdrive. Will his confession hold up?
On tonight's Under the Dome, Rebecca wants to release a deadly virus into the population. Will she do it? And how many would die?
Fritz is offered a new job with the LAPD on this episode of Major Crimes. Read on for more.
OnMistresses, Joss tries to stop Harry from going back to Australia, Karen faces a dilemma involving her lover and a patient, April has a crisis of conscience - and Savi says goodbye to her home.
---