Valentine's Day can be a traumatic for many of us, but Grey's Anatomy upped the ante big time last night, with a roof collapse and on a more personal level for many doctors.
Still, the possibility of reinvention carried the day. Click here for our official recap (plus quotes and music) from last night. Below is our review of "Valentine's Day Massacre" ...
DEEP IMPACT: When a restaurant's roof caves in, the casualties are many, and the effect they have on our characters wide-ranging. An injured waiter quickly slips Alex $50.
Why? To be in a room next to a woman he has served, and been in love with, for 15 years. He confesses he thinks she's in an unhappy marriage as he's loved her from afar.
She's awake and she's heard everything he said.
Alex and Meredith take bets on what will happen, while gossiping with Cristina about marriage while eating chocolates Alex took from a guy in a coma. Pretty funny scene.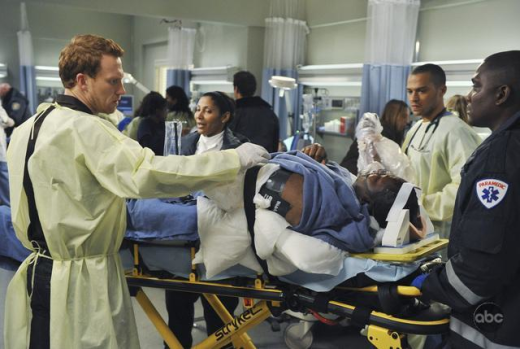 Your typical holiday catastrophe at Seattle Grace-Mercy West.
The mood sours when the wife has complications, but ultimately recovers, as does her husband, while the waiter goes to surgery and doesn't make it. She's heartbroken.
The woman explains to Meredith that when she chose her husband, she made a choice, as continues to every single day. This gets Mer thinking about her own wife status.
Meanwhile, a dishwasher's arm was cut off. Lexie, a.k.a. "Trauma Room Barbie," gets a pep talk from Avery of all people. Act more assertive, don't just dye your hair blonde!
Jackson opens up to her about the burden of being pretty (which he is, right ladies?) and how as a result of being good-looking, his family never expected anything from him.
Lexie takes his advice to heart and encourages Mark and Owen to reattaching the guy's arm ... to his torso. Seriously. This will keep it viable while they repair the wound site.
Newly assertive Lexie calms the understandably panicked patient down, then sleeps with Alex again. Wow. You certainly can't accuse her of being mousy and complacent now.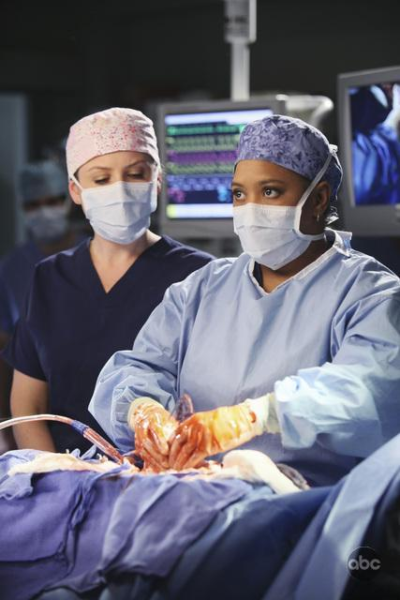 Arizona not-so-subtly encourages Bailey to take the plunge.

BAILEY'S LOVE LIFE: Callie and Arizona are atwitter over Valentine's Day and their gifts for one another, and even more excited when Bailey gets flustered by the gas man.

He asks her out to dinner. She awkwardly squirms out of it. Arizona dives headlong into overt hinting about them dating during surgery. Gotta love AZ playing matchmaker.

Finally Bailey confesses to him that she acts stupid around him because she likes him. She would also accept a dinner date. Warm and fuzzy, she's not. Awesome, she is!

SLOAN SQUARED: Sloan is back and Mark Sloan is excited about being a granddad. But all his daughter wants is a clean bill of health so she can go forward with adoption.

Callie forces her to at least tell Mark, but he offers to adopt the baby. Sloan agrees to at least discuss the idea, but later, Callie catches her sneaking out of Mark's apartment.

She admits she wanted money and a place to stay and didn't expect Mark to start caring. Callie lets her go and breaks the news to Mark. Sad, but she's such a good friend.

UN-RING THE BELL: Teddy's trying her hardest to do just that and be friends with Owen again, but he won't even look at her because he feels like he's cheating on Cristina.

What breaks her heart is that he's her best friend and she misses him, though, and she wants them to go back to how they were, even if they both "chose" Cristina in a way.

Teddy matter-of-factly tells Owen she's going to be his friend and Yang's mentor at the same time. Awkward as this is, there are so many relationships like it, and it's compelling.

MRS. SHEPHERD: Derek's learning that being chief is a lot more than being in the OR. Meredith is also learning that being the chief's wife is a role she's not used to herself.

Derek rehired April (Sarah Drew), but instead of doing surgery she's focused on helping with administrative duties. Like calling Mer "Mrs. Derek Shepherd," which she hates.

Turns out April has doubts that she's cut out for surgery, but Derek gives her a great pep talk. It's good to see that even with his new title, he's still the same McDreamy.

Meredith mans up and makes an appearance at a big fundraising breakfast with her post-it hubby. There, she's appalled by the placard announcing "Dr. and Mrs. Shepherd."

We loved her response, though. Sure, this eats away at her inside. But instead of going all dark and twisty, she just tells Derek he better make this up to her. In the bedroom.

His response: "Yes, dear." Swoon.

What did you think of last night's Grey's Anatomy?

Steve Marsi is the Managing Editor of TV Fanatic. Follow him on Google+ or email him here.

Tags: Grey's Anatomy, Reviews