White Collar Review: "Vital Signs"
at . Comments
Last night, White Collar may not have given us any clues into the whole Kate, Fowler, and Neal triangle - but "Vital Signs" proved this show is great even without the main storyline.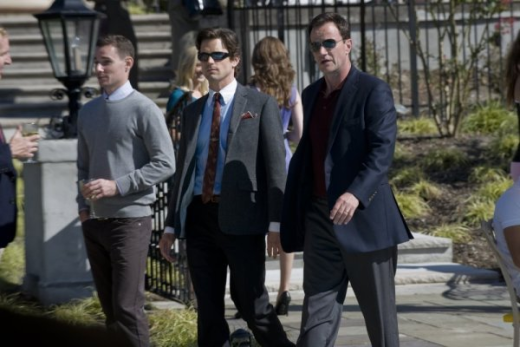 A couple things we loved about this week's episode:
The interaction between Elizabeth and Peter. Finally we get to see a little emotion here! The end could have been steamier, but at least it felt authentic with the whole non-jealous - jealous emotional interplay.
The tricky way they got the doctor to believe he was starting renal failure - bigger clothes (check), rash all over his body (check) and blood in his urine (check)! Great plot. I loved every second of it!
The complete trust that Peter and Neal share with each other. Granted, Neal was all doped up, but you can tell there is a bond between these guys. It gets me feeling all warm and fuzzy.
There is no doubt in our minds that Neal is not a bad guy. He has proven time and time again that he is choosing to do the right thing. The only thing that keeps him from the righteous path is Kate.
It will be interesting to see what happens next to our anti hero. We can only hope that next week does bring us one step closer in finding out! Until then, here are a couple White Collar quotes from last night:
Elizabeth: There are some dishes to be washed - Mr. Magic Hands. | permalink
Melissa: We may have a few slots available - you boys willing to get your hands dirty? | permalink
Neal: You're the only one.
Peter: The only one what?
Neal: The only person in my life that I trust. | permalink
Tags: White Collar, Reviews
Want more White Collar?
Sign up for our daily newsletter and receive the latest tv news delivered to your inbox for free!
More From TV Fanatic
Who can be trusted? On tonight's Covert Affairs, it's clear that it's important to trust others, but also a huge gamble.
Jane and Maura get drawn into the world of rare books and coded confessions when a book seller hiding a secret is murdered on Rizzoli & Isles.
On Perception, Daniel and Kate investigate an art heist. Also, Daniel must make a decision about his love life.
Things on Pretty Little Liars looked pretty darn bleak this week as Hanna's friends started to get sick of her but Zack couldn't get enough. Read the review for more insight into the latest installment!
---