A family legacy can a blessing and a curse. Meredith Grey knows this and so does Jackson Avery. Thursday's Grey's Anatomy brought them closer together as a result.
Meanwhile, a reeling Mark reverted to his old, hilarious ways and the complex dynamics between Derek and Richard and Owen, Cristina and Teddy became more so.
A very good episode all around. Click here for our official episode recap (plus quotes and music) from last night. Now, here's our review of "Perfect Little Accident" ...
THE HARPER AVERY: The man for whom the Harper Avery Award, which Ellis Grey won twice and Preston Burke won after he left Seattle Grace, if you recall, is named.
He is a total badass, and when he's rushed to the ER, Cristina cracks under the pressure. Moreover, we learn that "Jackie," a.k.a. our own Jackson Avery, is his grandson!
Harper wants Ellis Grey to perform his surgery, and with that obviously not happening, asks for Richard to do it instead. While he's awake during the procedure. Gulp.
The team meets Harper Avery, surgical legend and grandfather of Jackson.

This puts Derek in another difficult spot but he relents. Richard, who's been taking drug tests and was hoping for a low-stress return to the job. Wishful thinking, my friend.
When complications arise, he's sure he made an error, and encourages Derek to let Bailey take over. But it was just an allergic reaction to sutures no one could've stopped.
It's amazing to see the Chief so vulnerable, but unlike previous weeks, Derek managed to be professional, compassionate and supportive to Richard, rather than combative.
When Richard wanted out, Derek wasn't having it. Bailey can assist, he said, but you can do it, because he's come so far in just two months. Way to have his back, Derek!
Also neat to watch was Jackson finding an ally in Meredith, someone who can certainly relate to the pressures of finding her individual path way in the family's lofty shadow.
A great moment came when Mer convinced Jackson he needs to make amends, and he introduced Harper to his friends, which everyone loved. Mature Meredith is amazing.
As for Meredith three years ago ...
ALEX KAREV
: He's basically a Meredith clone emotionally, if you flash back to 2006. So observes Mer herself, and later Cristina - these two are totally sharing the same brain.
This observation arises because Lexie is developing feelings for him. Bad idea. Also a bad idea (for her, but funny for us)? Waiting for him, nude, in bed at Meredith's house.
Alex is doing his typical Alex thing, retreating into an emotional bunker, acting macho, getting booted out of the occasional OR for sleeping with people's significant others, etc.
Lexie insists it's all just physical. We'll see about that.
As for her ex, he's moving on in his own way, repressing feelings by sleeping with a drug rep. And a nurse. And a patient's daughter. In one day. Who is this guy, Tiger Woods?
It's not like anyone can accuse him of letting it impact his work, either. He performs a surgery and restores the patient's hearing. Again, Tiger ... well, minus the marriage bit.
He realizes, however, that where he really belongs is with fair Little Grey. Until he sees her and Alex most likely coming out of the on-call room, that is. Damn that Karev!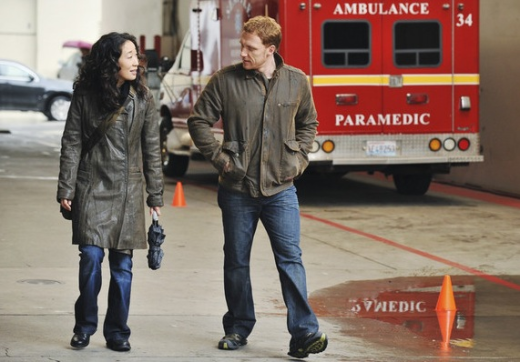 Fittingly, Grey's Anatomy was at first going to be called Complications.

GIRL POWER: Arizona catches Teddy gazing at Owen longingly and decides that what Teddy needs is a friend. Arizona naturally volunteers herself, 'cause she rules.

Besides friends, Teddy also needs help with a young man who survived both leukemia and lymphoma, but whose lungs were damaged by his radiation treatments.

Teddy's initially reluctant to use rehabbed lungs, but Cristina manages to rescue them from disposal. You knew Yang could only go so long without being redeemed!

Teddy lectures Cristina about the dangers of ambition, and how it leads to bad judgment and priorities. But the patient wants the lungs, no matter Cristina's motives.

Cristina's second, far more important redemption comes in surgery, when she plays the role of mentor, in a sense, helping Teddy get through it. Awesome moment.

The patient is saved and Owen, having been encouraged by Cristina to be friends with Teddy, suggests they get a beer and celebrate. She's got her own plans though!

Complicated as things are, we're starting to like Teddy a little.

Perhaps with a bit more balance, she won't be as pathetic. The Cristina-Teddy dynamic is fascinating too, given Owen's role in both their lives. But can good times last?

Mer and Cristina join them on the softball diamond for beer and batting practice. Now that sounds like the ideal girls' night out. All's well with the world, right?

What did you think of last night's Grey's Anatomy?

Steve Marsi is the Managing Editor of TV Fanatic. Follow him on Google+ or email him here.

Tags: Grey's Anatomy, Reviews