Some of the best episodes of House are the simplest ones.  Unfortunately, this week's episode entitled, "Black Hole" was neither very simple nor very good. 
The show attempted to tackle the idea of how someone's subconscious can tell us a lot about who they are and visited two extremes with the idea neither of which really worked.  House tries to use a patient's subconscious thoughts to help him diagnose a patient, Taub and his wife try to evaluate how their actions subconsciously convey true meaning and House evaluates how Wilson's taste in furniture tells a lot about who he is.
After a series of allergic reaction tests for the patient comes back negative, House does an about face and turns to unproven, experimental cognitive science treatments.  The idea that her subconscious could be medically relevant is nothing we'd ever expect House to put any stock in and Foreman even calls him out for such hypocrisy on the show! 
While it was cool to explore some cutting edge medical diagnostic techniques, ultimately it doesn't really lead to the diagnosis.  House simply has an epiphany that the patient's boyfriend's father who travels frequently for business is the only person who could have exposed the patient to a foreign allergen.  She wasn't thinking about her own deceased father in her subconscious, she was thinking about her boyfriend's father! 
It seemed like a bit of a stretch that her subconscious was telling the story of how the patient became sick.  At the end, all it did was bring us back to the original diagnosis – she is suffering from an allergy, but with the added twist that the only way she could have been exposed is from having sex with her boyfriend's father. 
Meanwhile, Taub continues to have relationship issues with his wife who remains insecure about his past history of indiscretion.  While this is likely a topic that's very close to real life and happens often, all it does is put a damper on the show.  Who wants to watch Taub's lame attempts to seem more engaged with his wife while she can't stop second guessing all of his motives?
Taub tries to do something nice and sporadic by making out with his wife in their car, but she stops and wonders if he subconsciously thought of this because he has done this before, but with another woman.  Talk about a wet blanket! 
Finally, we have more forced interactions between House and Wilson.  Perhaps this is a push to get Robert Sean Leonard more air time, but having the two live together is getting old.  We're supposed to believe that House is really interested in how the furniture Wilson purchases subconsciously says something about him?  It'd be easier to believe if House just wanted to screw with Wilson and prove that he couldn't buy his own furniture.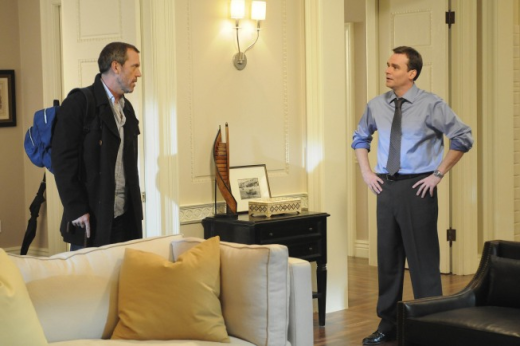 The House-Wilson interaction is the best one on the show (sorry Huddy lovers) and exploring their relationship outside of the hospital has been fun.  It's also getting stale.  Get the two of them back in the hospital where the interaction doesn't seem so forced.
Did you like House exploring the subconscious? Tell us what you think!
Some House quotes from the episode:
Dr. Wilson: Would you mind at least putting a napkin under your jelly toast?
House: Get a table, and I won't eat on the couch.
Dr. Wilson: You, you will.
House: But I won't have a good excuse. | permalink
Thirteen: Cuddy has a soft spot for smart girls, and they don't start drinking until second semester, senior year.
House: So either you think that smart women look out for each other, which means you're an idiot, or you think Cuddy's not smart, which means... well, I guess it's the same both ways. | permalink
Dr. Foreman: Well, it's take us just over an hour to prove that she has a very boring subconscious.
House: Anyone ever tell you you can be a real buzzkill?
Chase, Taub, and Thirteen: Yes. | permalink
Dr. Wilson: You know, they don't actually come to life when you put a knob off a bedpost on them. | permalink
Tags: House, Reviews
Want more House?
Sign up for our daily newsletter and receive the latest tv news delivered to your inbox for free!