Rob Lowe Tweets on Parks & Recreation Arrival, Brothers & Sisters Exit
by Steve Marsi at . Comments
Rob Lowe is leaving one hit show, coming to another, and recently added a Twitter account. He's a busy guy these days. Of joining the Parks & Recreation cast, he wrote:
"Hellooo Pawnee!! On my way to the read thru of my first ep of Parks And Recreation. Should be fun! Will let you know..." That was the man's inaugural tweet, no less!
"P-Rex table reading: hilarious. Great people, great writing. Gonna be fun," he added of the hilarious NBC comedy, which he joins this season and continues into next.
It'll be great to see Lowe show off his comedic side on what has become one of our favorite shows. We can only imagine the Parks & Recreation quotes that will ensue.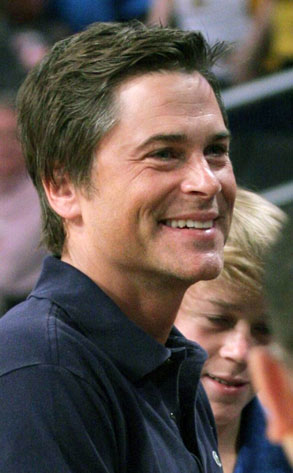 COMING AND GOING: Rob Lowe is a busy guy, and Tweeting about it!

As for the show he currently stars on, he's taking requests ... for how he's written off. Lowe was featured on last night's Brothers & Sisters, with no sign of an immediate offing.

"How should my character exit? Divorce? Kidnapping? Slip on a banana and die? Need ideas, vote now!" he wrote. We were thinking heart attack, but really, any of the above.

Lowe was confirmed for his Parks & Recreation stint not long after he announced he would leave the Brothers & Sisters cast, of which he's been a part for three years, this May.

Rumor has it he may star in a new ABC pilot next fall, as well.

Steve Marsi is the Managing Editor of TV Fanatic. Follow him on Google+ or email him here.

Tags: Brothers & Sisters, Parks and Recreation