This week's episode of FlashForward, "Better Angels," could have been called Better Angles, as it ended with a whole new way of looking at the blackout.
There is tension on the home front when Olivia, not content to let herself be trapped by her vision, tries to coax Mark into moving the family to Denver.
By Olivia's logic, since all their negative flashes took place in Los Angeles, a move would set them free. When she finally gets Charlie to reveal her flash and learns that she overheard two men (including that shady Vogel!) saying that Mark was dead, Olivia demands that Mark choose between Denver and his family and Los Angeles and his job.
Olivia believes that she is freeing herself of her vision, but by forcing Mark to choose, she may very well be setting herself up to leave him – just as her vision predicted.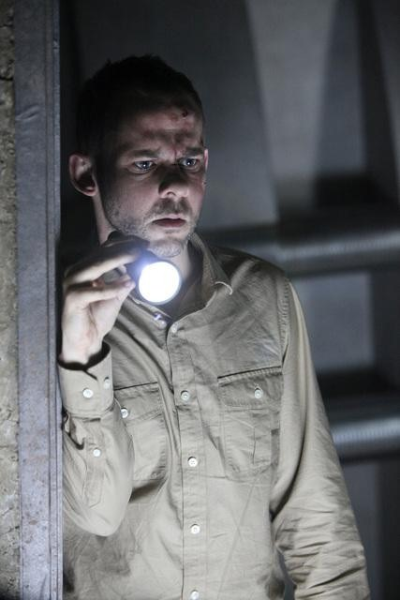 Also Stateside, Bryce begins to tell Nicole about his cancer. We hope that this revelation will not push Nicole off her path to med school; we like her newfound purpose. But however tense the situations at home may have been, they pale in comparison to the team's trip to Somalia.

Traveling off the radar and in disguise, Demetri, Janis, Vogel and Simon are almost immediately captured by Abdi, a warlord who saw the original experiment back when he was a boy, and to whom the blackout had given visions of great power.

Though we can assume he was no choir boy before the blackout, Abdi's bloodlust shows that he is another person trapped by visions of the future.

Abdi believes the blackout was God's work, and that his eventual ascension to power is God's demand. He, in turn, demands weapons and vehicles from the agents in order to win the war he sees coming. Abdi was a shot of adrenaline to this show, however short-lived.

His wanton killing – of the team's translator and security guards – kept us on the edge of our seats (which is no small feat, given that we know that Janis and Simon are predicted to survive and Demetri's death is predicted at another time. Plus, the large seats we sit in.) Looks like Mosaic was actually finally good for something, as Janis wisely uses it to show Abdi that he is meant to bring peace, not war. Way to figure that out after all the extras have been killed off, dear.

As we said, Abdi's time was short-lived.

When he discovers the bodies of his villagers in the one remaining tower, he tries to kill Simon, again believing that God brought the two together so Abdi could have his revenge.

Vogel kills him, leaving Janis to ominously state that his death was not supposed to happen. This change in the future causes Janis to believe that her pregnancy was not meant to be. However, Demetri, perhaps drunk on rum, perhaps hoping Janis is drunk on rum, perhaps wallowing in the misery of his foreseen death, offers to impregnate Janis.

Will Janis take his offer? We hope not; it just doesn't feel right. She is convinced that not every flash will come true – hopefully she'll try to convince Demetri of the same thing and get him focused (besides, can you imagine the field day the Birthers would have with a kid conceived in Somalia if Janis's child ever runs for President?)

However, sex was the last thing on Demetri's mind once he decided to rewatch the D. Gibbons/Dyson Frost tape of the original experiments.  In the creepiest moment we've had in the entire run of the show, Dyson Frost suddenly turns to the camera and begins to address Demetri, all the way back from 1991. As the episode ends, Frost asks Demetri, "got your attention, didn't I?" The show, with back-to-back strong episodes, certainly has ours.

One critique: Was it necessary to have Abdi have that scar across his face? It made us think of Omar Little, which made us think of The Wire, which made us think of all the shows that just don't measure up, which made us hug each other close.

Steve Marsi is the Managing Editor of TV Fanatic. Follow him on Google+ or email him here.

Tags: FlashForward, Reviews