Leroy Jethro Gibbs is unlucky in love.
NCIS fans know this all too well, as it's part of the fabric of the tough-as-nails special agent. But with two potential love interests in play, is his luck about to change?
"Gibbs is a great character," says Dina Meyer, who plays madam Holly Snow on tonight's episode. "I'd think the audience would like to see his feathers ruffled a little."
Is she right? Partially. She checked.
"There are people who enjoyed the chemistry that Holly and Gibbs had," Meyer says, having gone online following her first NCIS appearance, "and there are some die-hard fans who hope their beloved Gibbs stays single and sticks to his job."
She thinks those fans need to cut their hero a break, though: "He deserves to get a little action here and there!" Meyer laughs. "If the fans really love him, right?"
Meanwhile, a more regular presence this season has been Rena Sofer (24), whose hard-a$$ attorney, M. Allison Hart, initially appeared hellbent on harassing Gibbs.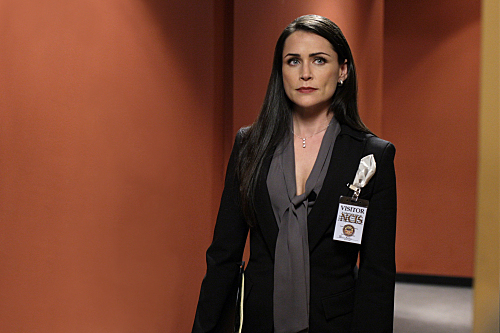 But clearly it wasn't that simple ... to the chagrin of many fans. When the duo moved in for a kiss at the end of Sofer's second episode, it sent groans across America.

Sofer seeks to reassure fans, however.

"One morning, the guard who stands at the front gate of my daughter's school said, 'I don't like you,' out of nowhere," she says. "I said, 'What are you talking about?' He's like, 'What are you doing to Gibbs?' I'm like, 'Oh, that. Trust me. You're gonna like me.'"

In a way, Hart has transitioned from a character you love to hate to (arguably) one you hate to love. It's unclear to everyone exactly what Hart and Gibbs are doing.

Unclear even to Sofer and Mark Harmon. Which is fine by her.

"This is one of the few shows on TV that doesn't treat its audience like idiots," the brunette says. "I really don't know whether it's a hookup or not, to be perfectly honest. There's a very ambiguous feeling about the two of them. I love that!"

So does executive producer Shane Brennan, for that matter. "We love ambiguity on NCIS," he says, noting that Hart will be featured heavily in this May's final episodes.

Any theories on what that means for Gibbs? Do you like her character? How do you see the rest of this season of NCIS playing out? Comment away!

Steve Marsi is the Managing Editor of TV Fanatic. Follow him on Google+ or email him here.

Tags: NCIS, Interviews, Spoilers