The City's second season began last night on MTV with "Show 'Em What You Got." What did the gang show us? More of the same ... but that's more than adequate.
Unlike The Hills, The City actually shows its cast members, y'know, doing stuff, rather than parading around and existing solely for the sake of being on The Hills.
Well, at least that's true of Whitney Port, if not the whole cast.
While there is still the mystery of what the heck Roxy Olin (of Brothers & Sisters quasi-fame) is doing there at all, the other three girls are focused on their careers.
As in actual careers ... not just getting paid to party. Crazy.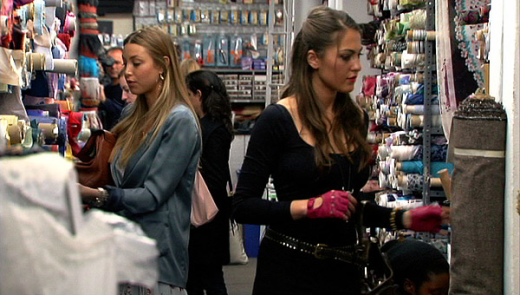 Whitney preps for her big fashion show. Roxy was also there.

Last night's season premiere of The City showed that a once relationship-heavy and altogether boring show has at least established a newfound, unique identity.

When Whitney received her big chance to debut her fashion line at New York's Fashion Week, it was clear she took the opportunity very seriously - and shined.

Her own disheveled appearance as she crammed to get ready was proof that her priorities are in line. Even

Kell on Earth

star Kelly Cutruone was impressed.

Meanwhile, at Elle, last season's conflict between Erin Kaplan and Olivia Palermo was finally resolved, sort of, when Joe Zee established himself as Olivia's superior.

In an attempt to salvage a respectful working environment, and build up the magazine at the same time, he suggested Olivia try video blogs for Fashion Week.

How in the heck has she not gotten fired yet?

From inflating her own level of responsibility to belittling others and making the interviews she does about her, this girl is truly pompous or a really good actress.

Still, the move at least worked as far as getting Erin to back off her threat to quit if Olivia wasn't fired. But is Erin jealous of Olivia's newer, high-profile role?

We're sensing that at least at the onset, and suspect it will only get worse as the season progresses. All in all, not a bad premiere for The Hills spinoff series.

Steve Marsi is the Managing Editor of TV Fanatic. Follow him on Google+ or email him here.

Tags: The City, Reviews