Grey's Anatomy Review: "How Insensitive"
at . Comments
For all of us Grey's Anatomy fans that love bawling our eyes out - this episode was made for us!
Not only did we get closer to finding out all the answers to our questions, but "How Insensitive" really touched the soft spot in our hearts.
Anyone who's had to deal with the loss of a parent would know what we're talking about.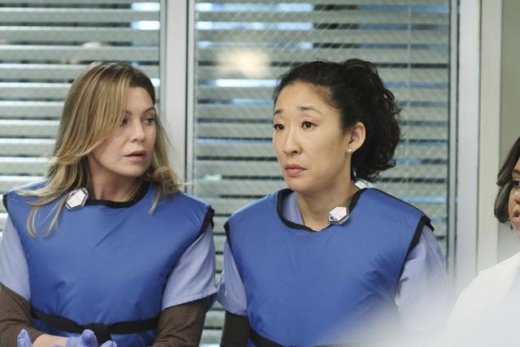 Losing someone you love is tough, but being a child and having a part of your support system taken away is devastating.
The scene where Cristina has to somehow figure out what to say to this child so that she can deal with losing her mom is so heartbreaking. It is true what she said too - that it will hurt a lot in the beginning and will likely always hurt, but after time it starts to hurt less and less.
What we found rather interesting was that Cristina picked Owen over Meredith to have her breakdown on. Seriously?? What does this mean? Not only did she choose Owen, but she told Meredith to go find him! Meredith was right there! Does this mean that Cristina's feelings for Owen are stronger than the bond she has with Meredith?
Meredith even put her friendship with Cristina in front of the sacred marital bond she has with Derek. And really, when does Cristina ever put anyone in front of Meredith.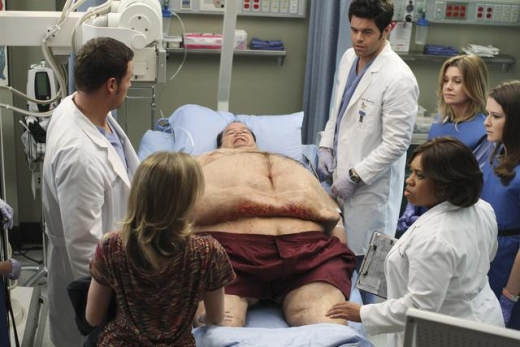 Another part that had us reaching for the Kleenex was the scene where Bobby told the doctors that he would rather die then let his unborn child see him like that way he is. Sometimes, people get caught up in their own self pity/misery that they fail to see what they are doing to the people around who love them. This situation can pertain to almost anything. Personally speaking, being from the side of the loved ones, it really struck a nerve ending.
We know that there are many many Sloan/Lexi fans out there and we definitely understand that, but there's just something we like about Lexie with Alex. She will never be Izzie, but Alex doesn't need another Izzie. When he kissed her and said:
Alex: You going home?
Lexie: Yeah.
Alex: Wanna go home together?
Lexie: Yeah. | permalink
Yeah, it kind of cemented the fact that we like them together (so not love yet, but most definitely like!!!).
So all the spoilers and rumors are going around that Derek gets shot - but, who shoots him? Would it be crazy April and her fatal attraction she has on him (BTW, April wasn't really a part of this episode - At all! That must mean something really crazy will happen soon!) or Mr. Clark who believes that it is Derek's fault that his wife is dead? This is a tough call, but we still believe it was April because Mr. Clark is thrown in to confuse us and keep us guessing!
What do you think - will Derek get shot, and if so, by whom?
It looks to be the end of Calzona. And as sad as we are (they were a great couple) we knew that this would happen. Like we said before, this is a deal-breaking situation that is bigger than religion. Hopefully, they can figure out a way to still be in each others lives because we don't see either of them budging on this one. They are both at opposite ends of the spectrum.
We loved last night's episode and felt the writers really did a great job!
What did you think? Love it? Think it was just filler before the season finale? Vote:
After the jump, we leave you with a few of our favorite Grey's Anatomy quotes - but, what was your favorite? Did we forget any that you loved? Let us know!
Meredith: No matter how thick skinned we try to be, there's millions of electrifying nerve endings in there. Open and exposed and feeling way too much. Try as we might to keep from feeling pain, sometimes it's just unavoidable. Sometimes that's the only thing left - just feeling. | permalink
Derek: Why did you tell Owen what I told you?
Meredith: I didn't - I told him nothing.
Derek: He came to me and said you knew.
Meredith: No, I told him nothing I just looked at him.
Derek: You looked at him. Meredith, when you are pissed your face says everything your thinking. Now I have a staff that can't trust me.
Meredith: So what am I supposed to do? Control my face?
Derek: Yes, you are control your face.
Meredith: Maybe you shouldn't tell me things that you don't want me to know. Control that.
Derek: Then I cant tell you anything. Then 80% of my day is off limits to my wife and I don't want that.
Meredith: Well, I don't want that either. I'm sorry. But I have to tell Cristina. | permalink
Teddy: Yang in or out lets go. | permalink
Cristina: (trying to figure out how Bobby and his wife have sex) Well she's gotta be on top. | permalink
Meredith: She can sit.
Cristina: No she can't. We're talking about S E X.
Nancy's daughter: I'm nine and you just spelled sex. | permalink
Bobby's wife: Now after the news I had to call.
Lexie: The news?
Bobby's wife: We are going to have a baby we're pregnant.
Lexie: How?! I mean, wow! Congratulations! That's joyous news. | permalink
Bailey: So remember to imply your ROC training and you will ROC your patients world. | permalink
Meredith: The skin is the largest organ in the body - it protects us. Holds us together. Literally lets us know what we are feeling. The skin can be soft and vulnerable. Highly sensitive, easy to break. Skin doesn't matter to a surgeon. We will cut right through it, go inside, find out the secrets underneath. It takes delicacy and sensitivity. | permalink
Cristina: I miss my dad. | permalink
Tags: Grey's Anatomy, Reviews
Want more Grey's Anatomy?
Sign up for our daily newsletter and receive the latest tv news delivered to your inbox for free!