At first we thought this installment of Parenthood was a bit slow, but things surely heated up quickly on "Namaste No More", and by the end of the show the patriarch of this family was kicked out of his own home.  We don't really know if we think Camille should forgive him.  Would you?
Crosby and Jasmine found passion in the bedroom, Haddie goes to Amber for relationship advice, Zeek comes clean about his financial woes, and Julia decides to coach her daughter's soccer team.  Each Braverman story has many elements that you can make connections with; maybe that is why this show is such a huge success.  People enjoy watching others with bigger problems than they have themselves. It makes this show even a bit therapeutic to watch!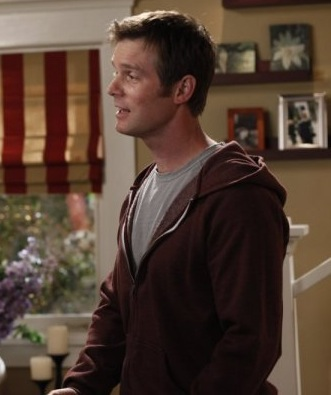 Great seeing things get spicy between the two new love birds, Crosby and Jasmine.  At first we were a bit reluctant, seeing all the sneaking around behind their son's back.  But at the end, when Crosby admits to wanting a real relationship with Jasmine… we really couldn't be more happy.  These two are destined to be together.  Do you think this relationship will work out?  We surely hope so! 
We can't believe that after her cousin breaks up with her first real boyfriend, Amber has the nerve to start messing around with him!  What are you thinking girl?  We guess you really are NOT thinking!  Once Haddie gets wind of what's going on we see this causing a huge rift between these two.  The preview for next week makes it look like Amber also sleeps with Steve.  Can we get anymore drama?
With the help and encouragement of his kids, Zeek finally tells Camille about their financial troubles.  It turns out that money is the least of their problems…  Zeek also can't keep it in his pants!
Poor Camille, she breaks down to her daughter Sarah and tells her everything.  We know this must have been hard for Sarah to hear.  Do you think Zeek and Camille will be able to work things out?   What's wrong with men these days?  Is it just in a man's DNA to screw any woman given the opportunity? 
The previews for next week show an explosive episode.  We cannot wait!
Until then, here are a few of our favorite Parenthood quotes to keep you entertained:
Camille: I'm going to the market do you need anything?
Sarah: Could you get me a six pack of a different kind of intelligence.
Camille: What kind would you like? | permalink
Amber: Dude I'm so sorry. But believe me, if there's one thing I know, you don't want to cash in your V chip with a cliché, or a jerk, or douche. | permalink
Adam: I just want you guys to know the things I'm about to do with this blue cheese should probably be illegal. | permalink
Jabbar: Should I go back to bed and make believe I didn't see you?
Crosby: Yes, that's a good plan. | permalink
Crosby: This is the worst Adam, sounds like Dr. Phil wrote this. | permalink
Tags: Parenthood, Reviews
Want more Parenthood?
Sign up for our daily newsletter and receive the latest tv news delivered to your inbox for free!
More From TV Fanatic
This week on The Last Ship, Danny gets sick and the crew begins to panic. Is it the virus? Meanwhile, Rachel's vaccine trials continue to fail.
Who was able to successfully problem solve on The Rachael Ray Show this week? Find out now in our review of Food Network Star.
The Masons are reunited on Falling Skies Season 4 Episode 6. Will it be a happy or contentious reunion?
What took place on The Real Housewives of New Jersey Review this week? Read our rundown to find out!
---