Last night on The City, Whitney Port and Kelly Cutrone went over the press from Whitney's fashion show and geared up for pushing her line to magazines and websites.
Standing in her way? Elle.com "editor" Olivia Palermo.
She's in charge of searching for young designers. Anyone else think it's beyond preposterous that this useless nincompoop ends up in these sought-after fashion jobs?
Seriously, wherever she can stonewall Whitney, that's where MTV somehow puts her. It's ridiculous. At least on The Hills, the girls clearly have no lives and just argue.
Here we're expected to believe these are career-oriented women. Careers on reality TV, maybe. Speaking of, Roxy Olin, actually gets assigned to Zach's new shoot.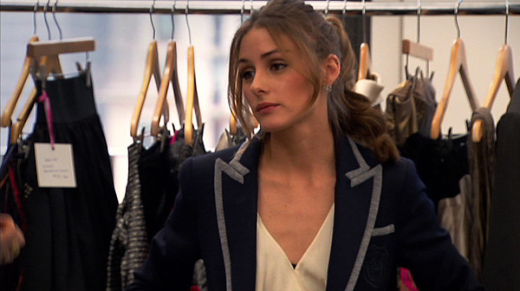 Olivia Palermo tried to stifle Whitney Port's dreams. Why? Just because.

Roxy and Zach take to the streets to ask passersby if they will be involved in his idea - regular people, everyday scenes, buck naked. Guaranteed winner right there.

Zach asks what is "going on" with her situation and she replies: "We'll see!"

The episode was called "Friends in High Places." Lucky for Whit, she's got one ... or would it be unlucky, given the familiar face she always ends up dealing with.

Whitney is setting up her collection for magazine editors to view. Olivia says she will come as a favor to Whitney. Because, you know, she's a BIG-TIME editor.

Later, out of pure spite, Olivia tells Erin that Whitney's collection didn't cut it and she's going to pass. But Erin goes through Whitney's Look Book and likes it.

She had good designs.

Elle

's feature is an emerging designer theme. Joe likes it and wants to be the first to promote Whitney, since he think she could be big.

So basically, Olivia has no actual say and is once again proven wrong.

Roxy later tells Whitney about the big photoshoot and says she thinks Zach asked her out while they were working but she doesn't want to get sidetracked.

Sure, Roxy. You know it's all about the boys.

Steve Marsi is the Managing Editor of TV Fanatic. Follow him on Google+ or email him here.

Tags: The City, Reviews