Coming off a season that made it the highest-rated show in SyFy history, Warehouse 13 returns with new episodes on July 6.
TV Fanatic will be your destination for weekly recaps, reviews, quotes and photos from the series. To get fans excited for it, we've posted the following descriptions for upcoming Warehouse 13 episodes. WARNING: spoilers ahead...
7/6/10: "Time Will Tell"
In the season two premiere, we pick up right where we left off. MacPherson has blown Artie to smithereens, and disappeared. Is Leena really a traitor? Where has Claudia gone? How will Pete, Myka and the Warehouse fare without Artie? What other havoc did MacPherson wreak when he was alone in the Warehouse? And is there yet a new villain on the horizon?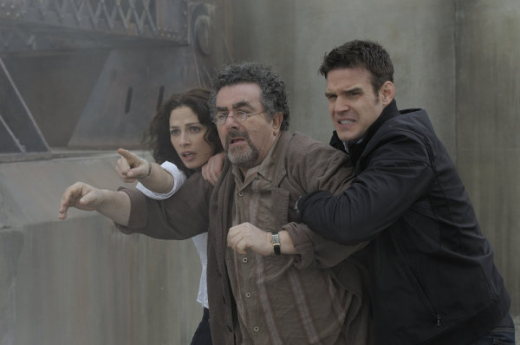 7/13/10: "Mild-Mannered"
A masked vigilante with an artifact is cleaning up the mean streets of Detroit. But when the very object that granted this mild-mannered samaritan his amazing super-powers threatens to destroy him and his city, it's the dynamic duo of Lattimer and Bering who must now come to the rescue.

7/20.10: "Beyond Our Control"
When an artifact meant for the Warehouse turns up in the small town next door, the team finds themselves in the middle of a B-movie meltdown complete with cowboys, gladiators, sci-fi robots and beach storming marines. Their only chance of survival rests with the man who invented television, Philo T. Farnsworth.

7/27/10: "Age Before Beauty"
When young super models rapidly age 50 years overnight, Pete and Myka go undercover in the glam world of high fashion to discover who – and what – is behind the transformations.

Matt Richenthal is the Editor in Chief of TV Fanatic. Follow him on Twitter and on Google+.

Tags: Warehouse 13, Spoilers