We jumped right in where we ended last week on "A New World."
Actually, it backed up about three minutes, picking up with Carter walking through the front door.
Of all the shows I have watched, I will admit this is the first one I remember making a huge story changing twist and not untwisting it. Both my wife and I expected that by the end of the episode they would have a plan to send Dr. Grant back to 1947, even if it was going to take a few episodes.
I really like where they are going with the story. I think it is a creative way to bring in some fresh fun to the show and bring back some favorite characters. For example:
Deputy Andy, the robot cop, is back and still so well played by Ty Olsson.  Jo is the head of GD security, which I had always wondered why there was not dedicated security chief at GD (they always had security guards, but never a boss that we saw).  Carter is getting ready to live with Tess, and Henry is married. All of these should make for some interesting interaction in the coming future.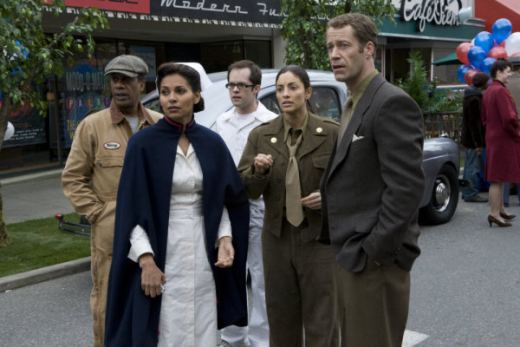 Henry even answered the question I asked last week: why were so many minor things changed without more major things being affected as a result?

The answer is that the farther from the people who created the ripple you got, the fewer things had changed.

So, the only heartbreak we really have is that Jo and Zane are not together and Zane is still prank pulling jerk. I am really sad for Jo, but I am very hopeful that with her being head of GD security and not with Zane that we get to see the character really grow and bloom this season. They showed her softer side tonight when she at the sheriff's office remembering where Zane asked her to marry him.

Please continue rounding her out and make her more than the gun-toting-ass-kicker she started as!

What about Dr. Grant? Now that he is stuck here, how much is changed due to him not being in 1947 to help?

I think that he is going to be the lynch-pin in the over-arching storyline this season. As a new variable to the town and a missing variable from the past, he has the most potential for some truly great writing. I am looking forward to seeing where they take his character, and if they figure out how to send him back by the end of the season (and would that fix everything).

What do you think?  Should they people come clean with what happened? Do you agree with Allison that she would fight to keep this timeline? 

Jim G. is a TV Fanatic Staff Writer. Follow him on Twitter.

Tags: Eureka, Reviews