Brendon has to be wondering what the heck just happened.
Somehow he went a whole week as Head of Household and none of his three targets - Britney, Ragan or Matt - are sitting in the jury house right now. Brilliant.
You knew the Cubic Zirconia Diamond Power of Veto would be put into play by Matt, but that didn't make it any less awesome when he stuck it to Brenchel.
Having just been put up on the block, Matt pulling himself off at the last second must have really stung Brendon. We're on the fence on Matt, but we loved it.
The "diabolical genius" act can get old, his possessing the Diamond PoV was lucky, and the lie about his wife is really bad, but Matt is definitely in it to win it.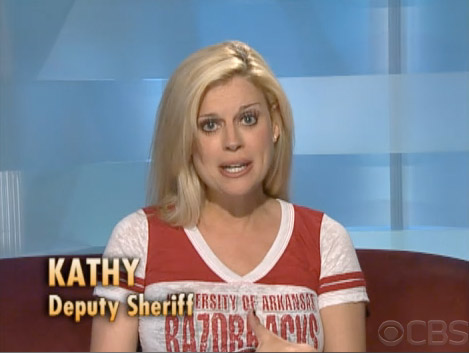 Kathy took the fall when Matt dropped the mother of all grenades.

Begrudgingly or unabashedly, you have to admit he's a favorite. Even the way he gauged his own allies' reactions to his nomination was reflective of his thinking.

Enzo told us in the Diary Room, and told Matt less directly, that he'd vote Matt out. Why didn't he and Hayden plan - or at least say they would plan - to split 1-1?

Puzzling move on their part, but Matt was all but history to them at the time anyway, so hindsight is 20-20 in a sense. Still, Matt would've been toast and knows it.

How will Matty treat his crew now? They did have to vote for someone, but did Enzo's remarks show the first signs of a fractured, or at least splintered Brigade?

Matt's choice to put up Kathy was a no-brainer, as we said after Wednesday's veto competiton. Eliminating her didn't change the game in the last. 5-0 vote. Done.

Moreover, people actually thought Kathy was the saboteur following Ragan's last act of sabotage - leaving a note under Enzo's pillow that says "I know your secret."

Finally, Ragan did something besides record a sketchy message, and rather than considering what Enzo's secret is, they blindly believe his theory that Kathy did it.

People also suspect the Sheriff of potentially being the one behind Rachel's pretzel message to Brendon, which is hilarious, and plays right into Matt's hand. Wow.

The HoH competition for this coming week of Julie reading quotes from the previous day's "Big Brother Says" game and asking the cast if they are true or false.

Not surprisingly, Britney is the last contestant standing.

Having already been treated to a segment about Britney and Lane, with footage of their respective families, we are excited to see her hold the power this week.

She's one of the more entertaining residents of the Big Brother house, and one you underestimate at your peril. Once again, the Brigade fails to claim HoH honors.

Next Thursday's episode will be a double eviction - vote, HoH competition, nominations, power of veto, vote, and another HoH all in one night. That's a lot to take in!

Who do you think Britney will put up? Will she attempt to back door Brendon? Did Matt make the right move - and do you like that guy? Discuss!

Steve Marsi is the Managing Editor of TV Fanatic. Follow him on Google+ or email him here.

Tags: Reality TV, Big Brother, Reviews