With just a week to go until the Burn Notice summer finale, "Blind Spot" put viewers through a series of emotions.
We all knew at some point that Jesse was going to find out that Michael was involved with him being burned. I think we will all agree that this was pretty close to the worst way the discovery could have been made.
Seeing Michael running from his building on footage he got from an outside source does not bode well. But, wait Jesse fans, there is a spark of hope!  Jesse chose to leave and not hurt Fiona, even though he promised to take down anyone involved with his burning.
Jesse is understandably angry with Michael, Fiona, and Sam. Who wouldn't be? I am just hopeful that once he cools off a little bit, he realizes that Michael really has been trying to help get him back in. Did anyone else catch that the two women involved had a harder time with lying to Jesse than the men? I don't know if it was intentionally broken down along the gender lines, but I found it to be an interesting take on how the different sexes could view deception.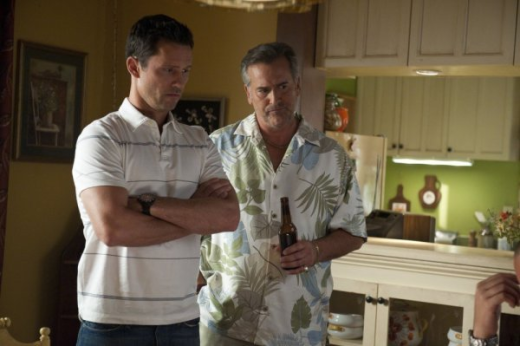 Of course, our first shocker of the night was when we had Jesse and Fiona "snogging" in her car to avoid being found out. Clearly, not all that kissing was for strictly tactical reasons. I couldn't tell who was more worked up afterward, Fiona or Jesse.

As much as I am a huge fan of the Michael/Fiona eternal love story, I kind of wish this event had happened a few episodes earlier so that it could play a stronger part in the Jesse betrayal payback. While Jesse did not shoot Fiona and left instead, I am not sure his feelings for her are not as strong as they could have made them had the kissing and awkwardness had happened a few episodes earlier.

Then again, Fiona has no trouble getting close to people quickly these days. As we saw in "Where There's Smoke," Fiona has a very strong protective streak for her clients. I really hope that Jesse remembers her passion for helping others as he plots his revenge against her and the team. 

Tonight Fiona even went a step farther as she was emotionally invested in the client on top of her already protective nature. If Sam had not stopped her, she would have blown the entire mission. Then again, I am huge fan of Jean Louisa Kelly (Emily), so I agreed with Fiona wanting to shoot Charles. I really hope someone gives Kelly a series again soon.

I have to compliment to Matt Nix and his team: this entire season has been incredible and tonight's episode certainly was no exception from the surprise that Jesse and Fiona both liked the kissing to Jesse finding out Michael was involved with burning him. Next week's summer finale has big shoes to fill.  

Did you like Jesse and Fiona making out? Were you surprised that Jesse finally put it all together? How do you think the showdown between Michael and Jesse is going to end?

Jim G. is a TV Fanatic Staff Writer. Follow him on Twitter.

Tags: Burn Notice, Reviews