The Gates Review: "Digging the Dirt"
at . Comments
Throughout all of last night's episode "Digging the Dirt" I was excited, intrigued, and a little spooked! By far, it was my favorite episode of The Gates to date.
Each of the characters brought it - especially Devon. We still don't know exactly what kind of witch spell she is creating, but the very last scene was especially creepy! Let's not forget the fact that she had a jar of the young man's eyeballs just sitting there. Not that it really matters, but what in same hill did she do with his body? Why do you think she needed his eyes? How did she know that he was "special"?! There's just so many questions surrounding her!!!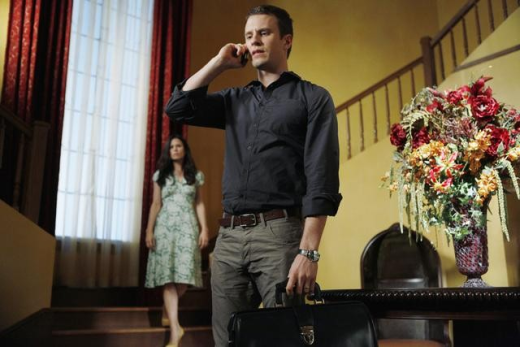 [Photo: ABC]
It is definitely apparent that Devon is the villain inside the Gates. If she can make a werewolf and a vampire get along - this must spell trouble. Why do you think she wants to know so much about what's going on in Sarah's home life? If Nick is her main target - why not go directly after him?
One thing is for certain - Sarah is addicted to that special tea! Whatever is in it has taken control of her!
I really enjoyed watching the interactions between Andie - Charlie - and Brett this week. It is obvious that this love triangle isn't finished. Brett now knows that Andie isn't just some normal teenager - that she too has supernatural powers. Will this mean a rekindling romance? Besides the Monohan's are there any other regularly normal human family living in the Gates? It really doesn't look that way.
So we learn that Buckley's intentions are rather pure. That maybe he isn't such a bad guy after all. Do you believe his wife's story about why he created this town? Is Buckley as good as he is made out to be?
The partnership that is blossoming between Nick and Dylan is probably one of my favorite aspects about this show. It was very surprising that these two would ever get along - let alone work closely together. Could they even be forming a bond? Dare I say a bromance?
I loved this week's episode and really can't wait to see what happens next week! What did you think of it? Are you as big of a fan as I am?
Follow the jump to read a few of my favorite The Gates quotes! Don't forget to leave us your thoughts and opinions!
Brett: I understand because I'm not human. You're not alone Andie, you'll never have to feel alone again. | permalink
Devon: It's not so much what you can do for me as much as it's what you can give. I need your eyes. | permalink
Devon: It's not so much what you can do for me as much as it's what you can give. I need your eyes. | permalink
Claire: Anything you want to tell me? I smelled you when you came into the door. I smelled you. | permalink
Nick: This my friend is no accident. | permalink
Nick: Thought you'd be okay with dead things. | permalink
Devon: I'm telling you dating in the internet era is a revelation. Eliminate the losers, there's still dozen of handsome success men that will kill to meet me. | permalink
Nick: He's got something on us, I say we get something on him. | permalink
Tags: The Gates, Reviews
Want more The Gates?
Sign up for our daily newsletter and receive the latest tv news delivered to your inbox for free!
More From TV Fanatic
Join us for the rewatch of One Tree Hill Season 1 Episode 3. Ready to rundown this fun installment?
This week on The Last Ship, Danny gets sick and the crew begins to panic. Is it the virus? Meanwhile, Rachel's vaccine trials continue to fail.
Who was able to successfully problem solve on The Rachael Ray Show this week? Find out now in our review of Food Network Star.
The Masons are reunited on Falling Skies Season 4 Episode 6. Will it be a happy or contentious reunion?
---