Most Bones Season 6 spoilers so far this summer have naturally focused on Booth, his new girlfriend, and Brennan's jealous reaction to this romantic turn of events.
There's also the Jersey Shore episode in the works. Bones will immerse herself in "guido" culture, with the Situation himself possibly guest starring. That's hilarious.
But what about other facets of the show, such as Angela and Hodgins?
Those two will remain an "ironclad couple," executive producer Hart Hanson tells EW. "They are in the honeymoon phase but they keep getting smacked in the head."
"But the honeymoon phase never goes away. They are deeply, deeply in love. We just want to do everything to a couple you would do to a couple that is going through life together."
"Sort of the opposite of Booth and Brennan for the time being."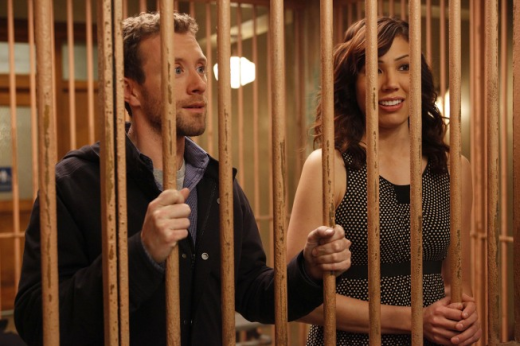 Angela and Hodgins: The anti-Booth and Brennan. At least for now.

Hanson plans to "have the kitchen sink thrown at them, but they're together for always. We could change our mind next year, but they're pretty strong this season."

As for the serial killer rumored to be stalking the Bones stars?

"We've got someone worse than the Gravedigger coming," Hanson says. "And if the Gravedigger is Evil Brennan, this next person is Evil Booth." So ... a sniper then?

"Booth was a sniper," Hanson says, "so it may be a sniper."

Finally, Hanson (vaguely) confirmed rumors that someone dies, saying that "it's someone we know." Who do you think it is? Leave a comment with your theories ...

Steve Marsi is the Managing Editor of TV Fanatic. Follow him on Google+ or email him here.

Tags: Bones, Spoilers