Simply put, we disliked this week's episode of 90210. It lacked tension and believable, intriguing storylines. That's a tough combination for success.
But "Age of Inheritance" has at least given our staff plenty to discuss in the latest edition of the TV Fanatic Round Table. Join the discussion on these topics now...
Are you on Team Dixon or Team Ivy?
M.L. House: Forget D-Fence. I'm all about D-ixon! His girlfriend came home from Australia, spent more time with an old, male friend than with Dixon and is now angry because some bachelorette took a shot off his body?!? Did this show move from Beverly Hills to Conservative Town, USA? Get over it, Ivy. The guy did nothing wrong.
LJ Gibbs: It's hard to even keep track of all the ways Ivy has wronged Dixon already this season. Getting steamed over a harmless Facebook photo isn't nearly as ridiculous as essentially cheating on the guy. Dirty thoughts and desires are the same as infidelity, considering how far she's already gone with Oscar. It's an emotional affair.
The Barnacle: I'm on Team Can We Let This Couple Be Together For More Than Three Episodes So I Actually Care About What Happens to Them?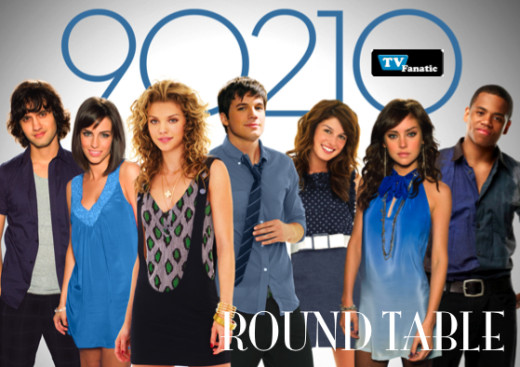 Are you on Team Liam or Team Annie?
M.L. House: I was on Team Annie because Liam was clearly a moron for taking her on someone else's boat. But then she went straight to another man. That's a classless, immature move.

LJ Gibbs: Shenae Grimes still plays Annie, right? Team Liam.

The Barnacle: I'm just on Team Lannie. I believe these two can work things out... and they better!

Are you on Team Teddy or Team Silver?M.L. House

: Team Teddy. I disagree with Mr. Cannon completely, and not just when it comes to my anti-rape stance. Sometimes, one can't help but to be in a bad mood and take things out on a boyfriend/girlfriend. Teddy just saw his ENTIRE world destroyed with that knee injury. Let him vent a bit, Silver. Just be there for him.

LJ Gibbs: Team Silver. Teddy is gay, remember? Get out while you can, girl!

The Barnacle: Teddy. The guy has had a few drinks recently and Silver has acted like he killed someone (which would be fine on 90210 anyway. Just ask Annie.). How tame are we to believe West Beverly has become, when a few drinks causes someone's girlfriend to lose it?!?

Who is Charlie?
M.L. House: He's the one intriguing thing about this episode.

LJ Gibbs: Liam's step-brother. Or maybe half-brother. Or maybe he just used the word "brother" because he's African-American. We'll see.

The Barnacle: Someone who is about to be on the receiving end of a Liam roundhouse. Am I the only one who wants to see him return to his bad boy ways?

Matt Richenthal is the Editor in Chief of TV Fanatic. Follow him on Twitter and on Google+.

Tags: 90210, Round Tables