90210 may have set a new record this week.
I complain on an almost episode basis that the show whips through relationships at lightning speed, breaking up characters and getting them together so quickly that viewers scarcely have time to actually grow attached to any pairing.
Consider the latest, extreme example from "Age of Inheritance." Annie and Liam officially went on their first date... ended their relationship... and Annie started a fling with a guy she just met... ALL IN ONE HOUR! Is creating such contrived tension between characters really the only storyline source writers have?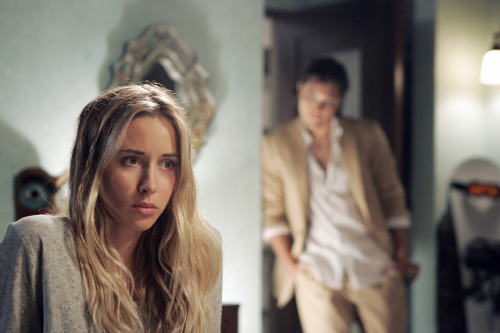 I might react differently if the basis for problems between various boyfriends and girlfriends were compelling. But think about what drove a wedge between significant others this week:
Ivy is mad at Dixon because a girl took a body shot off him. Really?!? Is this second grade, or the year 1937? Ivy, the same carefree girl who gladly hooked up with Liam in his basement for awhile, no strings attached, is upset due to a harmless incident with a stranger? This is Beverly Hills, right? Doesn't everyone have racy Facebook photos?
Liam took Annie out for a romantic evening... on a random boat that isn't his?!? Talk about the writers concocting an obstacle out of their rear ends. This was just silly and flat out unbelievable, in the worst possible sense.
Suddenly Silver is flirting up a storm with Mr. Cannon?!? If the show wants to paint Cannon as a shady bad guy, that's fine. But Silver is a smart gal. There's simply no way she'd act so inappropriately around a teacher, telling him how "great" he was over and over.
Sigh. I really wanna be on board for season three of this show. But it's proving that it doesn't know what it is. 90210 must go the racy route, adult route and give us storylines such as Naomi's rape; or it must give in and essentially admit it's an innocent version of a primetime soap, intended for middle school students.

Unfortunately, it's chosen to try and walk some line in between those two options. And it's failing miserably at them both. You can't give viewers as heavy a topic as rape on one hand... and then expect us to get worked up or care at all about some meaningless body shot or boat-sitting incident on the other. Select a path and stick with it, 90210.

I'm speaking to the series in general and certainly to the relationships themselves, which hit unrealistic, shallow bumps every weekly in an effort to create drama.

Rant over. Review now open to readers. Am I being too harsh? What did you think of the episode? Sound off now and/or in our 90210 forum!

Matt Richenthal is the Editor in Chief of TV Fanatic. Follow him on Twitter and on Google+.

Tags: 90210, Reviews