The third season premiere of Fringe delivered exactly what we have been waiting for all summer: answers to what has happened to our dearest Olivia!
These answers are not so favorable for Olivia, as she's trapped with no escape, becoming someone she doesn't even recognize.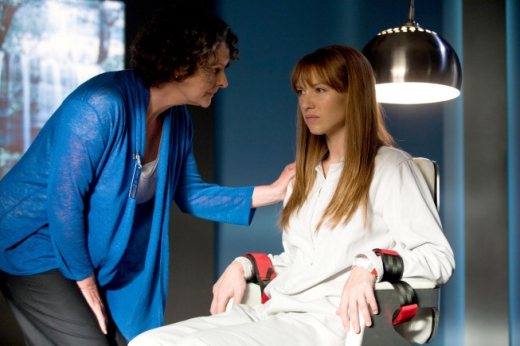 "Olivia" begins with Olivia receiving psycho therapy from a woman that thinks she has suffered a complete mental breakdown.  How frustrating would it be to be telling the truth while a psychologist thinks you are completely off your rocker?
Honestly, Olivia seems to be handling her situation quite well.  I know I wouldn't have been so calm. Thankfully, Olivia was able to escape, even though she was unsuccessful in her attempts to return home.  She is fighting for her life and also for the survival of her entire universe.  A lot is riding on her shoulders. Do you think Olivia has what it takes?   
But Walternate has big plans for Olivia.  He wants to transfer the evil Bolivia's memories into her, hoping to eventually use her powers of universe crossing against her!  How does this man come up with his wild ideas?  All we know is that Walternate's only goal is the total annihilation of our world.
By the end of the episode, Olivia believes she is Bolivia.  How will Olivia save herself if she can't even remember who she is?  What a mess!
In our world, Peter is locking lips with Bolivia, unaware that his true love is lost in another universe.  I think/hope Peter opens his eyes and figures out the truth about Bolivia.  I have faith that Peter will then return to the alternative universe and save his Olivia.  This really seems to be her only hope.
I also have a feeling Walter and his brilliant mind will successfully facilitate Olivia's rescue.  Once Walter knows Olivia's life is in danger, he will stop at nothing to save her.  Actually, wouldn't both Bishops?  It will definitely be awesome and entertaining to watch the next few weeks unfold. 
So many questions are running through my mind, such as:
How do you think Olivia will find her way home? 
Will Peter be the one that figures our Bolivia is not his Olivia?
Has Peter and Bolivia had sex??? This really just seems wrong on so many levels!
Will the alternative universe or our universe survive Walternate's war?
Has Olivia lost all her powers now that she thinks she is Bolivia?
My head feels like it is spinning!  I can't wait for next week and might lose hours of sleep pondering the fate of Olivia. 
Until then, here are a few awesome Fringe quotes from this week's episode: 
Henry: What about you, you got someone?
Olivia: Sort of.
Henry: That's an odd name, sort of.
Olivia: His name is Peter, he's sort of the reason I'm here. | permalink
Walternate: Did you see the incidence footage?
Broyles: Yes sir.
Walternate: Do you know what I'm thinking?
Broyles: That there's only one person in Fringe Division that can make a shot like that.
Walternate: It's working. | permalink
Olivia: I'm stuck here. | permalink
Olivia: I'm not crazy you know. To prove that to you I'd have to tell you some things that are even crazier. | permalink
Peter: The whole time I was in there, there was only one thing I could think about.
Bolivia: Yeah what? (Peter then kisses Bolivia)
Peter: That. | permalink
Tags: Fringe, Reviews
Want more Fringe?
Sign up for our daily newsletter and receive the latest tv news delivered to your inbox for free!
From Around the Web
More From TV Fanatic
It's getting crazy on Gang Related! Lines are being crossed by gangsters and officers, is anyone in the right?
On Rookie Blue, Andy assists Sam in a missing persons case. Elsewhere, an undercover operation to track down illegal handguns sends Chris scrambling to maintain control.
Join us for the rewatch of Gossip Girl Season 2 Episode 9 "There Might Be Blood." What did you think of this episode?
Duck Dynasty Season 6 Episode 5 was all about re-branding. Read on for our latest rundown.
---