The Defenders Review: "Las Vegas V. Reid"
by Sean McKenna at .
I like the way that this show is turning out. Being a lawyer seems just plain fun.
Where most shows involving the law begin with a serious gritty undertone, The Defenders jumps right in with a humorous lightheartedness. Remember that massive billboard that was unveiled last episode? Somebody thought it would be funny to graffiti glasses and a mustache on the giant versions of Nick and Pete. They don't find it funny, but it was humorous to see the two banter about how they are going to punish the vandal when they find him.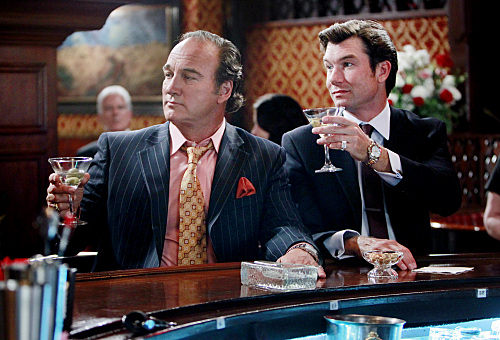 This week found Nick taking on a case involving a single mother who hits and kills a jogger with her car. The woman, Laura Reid, is not originally Nick's client. It is when a strict judge revokes Reid's plea bargain, leaving her nine-year-old daughter with no one to take care of her, that Nick steps in to try and reopen the case.

It was nice to see him take on a case without worrying about whether or not she could pay him. He genuinely seems to care about defending her and getting her back to her child. It shows a very human and caring side to Nick, something that most people might not associate with lawyers. It makes you like him that much more.

Just when Nick believes he has everything under control, the D.A. informs him that Reid was supposedly on her cell phone during the accident. Now, a brand new charge of felony vehicular manslaughter will be added if Reid's case is reopened. I was glad to see that not everything goes according to plan. That would make everything too easy. Also, seeing A.D.A. Thomas Cole again shows a nice continuity for the show and creates a powerful adversary for Nick and Pete.

Ultimately, Nick is able to conclude through an iPhone application from the victim that Reid was not on her cell phone at the time of the accident. The judge eliminates the manslaughter charge but reinstates the original charge. Nick thinks he's lost, but the judge requires Reid to be in jail for a week. Lucky for her, that's how long she's already been there. In the end, Nick garnered a victory, much to the chagrin of A.D.A. Cole.

A side plot in this episode involves Pete dealing with his own case. The man, Walter, borrowed $10,000 from his boss' safe and used it to bet on a horse race. Walter needed to save his house but he was having financial troubles. Pete is given the task of trying to figure out a way to give that money back to Walter's boss. Ultimately, he comes through with some clever law tricks and a little help from Lisa Tyler.

I'm hoping that Lisa has more to do in future episodes. She seems to find the smallest clues when Nick and Pete need them most.  She is certainly an asset to the law firm and I hope the show will round her character out.

It's nice seeing that lawyers take on more than one case at a time. I'm so used to watching shows where it's one case, one crime, and one client. While Nick and Pete head their own specific cases, they help out each other when needed. They really are a team, and a charismatic one at that. You can't help but want to watch them win at any means necessary.

The episode concludes with Nick and Pete at the bar watching a horse race. The two go crazy thinking their horse is going to win when the screen cuts to black. What? The show is over? Is this the movie Inception? Nope. Over the black screen Pete shouts, "Awwww, c'mon. Really?" Guess the guys can't be winners every time.

Check out our collection of The Defenders quotes and sound off: Are the Defenders here to stay?

Sean McKenna is a TV Fanatic Staff Writer. Follow him on Twitter.

Tags: The Defenders, Reviews
From Around the Web