90210 moved many storylines forward this week, while also giving both male and female viewers a bit of skin to stare at.
Indeed, "How Much is That Liam in the Window" was mostly an enjoyable episode, as we invite readers to chime in on the following 90210 Round Table topics...
What was your favorite scene from the episode?
M.L. House: Ivy's fight with her mom. I thought Oscar's grand plan for revenge was pretty lame, but at least Ivy sold her pain well when she called her mother a "whore."
LJ Gibbs: Gotta love Navid and Dixon taking photos of a shirtless Liam at work. That's totally the kind of thing I'd do if a friend was ever in the same situation.
The Barnacle: I enjoyed the scene where Naomi and Jen talked about the former's rape. These sisters have quite the contentious history, but props to Jen for showing a soft side when it mattered most.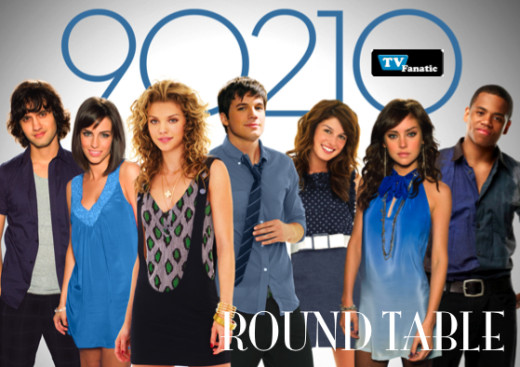 Is Adrianna making a mistake?
M.L. House: Not really. Look, the music business is cut throat and this is her dream, right? The odds are heavily stacked against her and I can't blame her for making the decisions she's made. Has anyone actually been hurt by them? No.

LJ Gibbs: Yes, only because she should be honest with Navid. Don't pretend to be innocent. Don't even show regret over the pictorial or use of Javier's song book. Tell him you're going all out to accomplish this career and he can get on board or get out.

The Barnacle: Yes. She should go full frontal! Then her career will really take off.

How did Liam and Charlie get those scars?M.L. House

: They look like burns to me. There's clearly a lot we will have to learn about their family history.

LJ Gibbs: Maybe some kind of cage-fighting? I could see 90210 taking an interesting storyline, one full of potential, and ruining it with some ridiculous revelation, couldn't you?

The Barnacle: They were given a choice: watch Shenae Grimes act or take a whipping. They chose the latter.

Do you want Annie to end up with Charlie or Liam?
M.L. House: Is one of them moving out of the country any time soon? If so, I'd choose that brother.

LJ Gibbs: Liam. The two of them never really had a chance, as it seemed silly for Annie to freak out over that boat incident on the season premiere. I'd love to see what happened if the show actually gave the time to develop as a couple.

The Barnacle: Ethan!

Matt Richenthal is the Editor in Chief of TV Fanatic. Follow him on Twitter and on Google+.

Tags: 90210, Round Tables
Want more 90210?
Sign up for our daily newsletter and receive the latest tv news delivered to your inbox for free!
More From TV Fanatic
Gather around, Pretty Little Liars Fanatics. Let's discuss "Run, Ali, Run."
Join in on the discussion as we ponder over the events in Suits Season 4 Episode 5, including Harvey and Mike's temporary truce, the adventures of Louis and Donna, and more.
Our Days of Our Lives Round Table: debates whether or not Abigail is a victim, if Theresa can be redeemed, and if there's any hope for EJ and Sami after this week's Days of Our Lives.
Gather around, True Blood Fanatics. Let's discuss "Death is Not the End."
---