Secrets were exposed on this week's episode of 90210. And while a couple pieces of information were leaked in a lazy manner, "How Much is That Liam in the Window" did a solid job opening up doors of potential intrigue between characters.
Let's start with my favorite storyline on the show: Adrianna and her career. Everything about this plot feels fresh and relevant, as one can easily imagine the dilemmas faced by burgeoning young artists these days.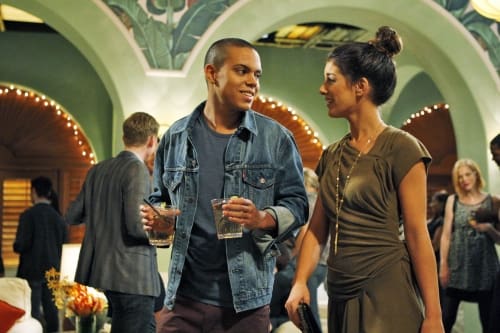 Adrianna references Lady Gaga and Katy Perry as singers that have posed provocatively, but Miley Cyrus is probably a better example. Many critics have taken issue with the racy lengths she has gone to since releasing her latest album, but it's true that most musicians need to stand out in some way in order to make it - and this standing often involved very little clothing.
It makes sense that Navid would object to that, and it also make sense that Adrianna would be willing to make a few moral sacrifices in order to see her dream come true. It's always a good sign when you can understand where both sides of a relationships are coming from.
This is a stark contrast to Annie and Charlie, of course. Seriously, did Shenae Grimes lose a bet or something? How is she constantly involved in the lamest storylines on the show?
I find it hard to believe a supposed theater buff such as Annie would have such a reaction to seeing Charlie's play, or would think that a writer who pens such material is automatically a psychopath. Quentin Tarantino must have been very offended watching that scene.
Then, Annie realizes that Charlie is actually a nice guy because he handles a situation well with a stranger on whom he spilled a drink?!? It's simply very dumb and very boring stuff - although I am intrigued by the scar discoveries on both his and Liam's back.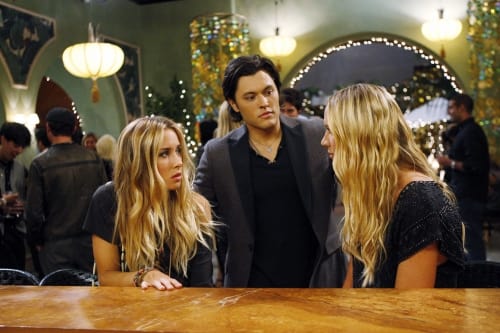 As for Oscar's grand plan to destroy Laurel's family? Eh. Did it really feel so grand? This guy's mother turned to drugs and alcohol, and eventually died, as a result of Laurel's actions... and his long-simmering scheme was simply to sleep with mother and daughter?
It was difficult to get on board with this storyline from the beginning because I never bought the idea of Ivy as a virgin. From the moment she showed up on 90210, she was all over Liam and the two of them casually hooked up in his basement for weeks.
Finally, we get to Naomi and the exposing of her rape to Jen and Ryan. I found it lazy that both this secret and Adrianna's secret were leaked in the same manner: via eavesdropping through some kind of technology. But that's not a major complaint.
It was nice to see Jen react with such concern over her sister, as the one positive to this incident could at least be these siblings getting close again. It's also welcome to see Ryan having to revisit his formerly drunken ways in order to do what's right and come forward.
I must acknowledge the awful writing, however: "I don't want anyone else to knows that Mr. Cannon raped me," Naomi told Silver. No one talks this way in real life to someone who already know what the topic of the conversation is.
Overall, a decent episode that furthered every storyline with the exception of Teddy. Where was he all hour? Hooking up with guys? We encourage fans to head over to our 90210 forum and sound off now, especially focusing on the most important question of all: Jack or Jacques?
Matt Richenthal is the Editor in Chief of TV Fanatic. Follow him on Twitter and on Google+.