The FBI Behavioral Analysis Unit on Criminal Minds obviously strives to keep the worst kind of criminals off the street, but even so, it's not always a clear-cut case of right vs. wrong.
In "Remembrance of Things Past," we were given a case with an interesting twist, as the team began investigating a string of murders quite similar to a case from 25 years ago.
It is the same guy. But back then, he stopped just when Rossi got close. Now, he's developed Alzheimer's and is repeating his murders only because he can't remember them.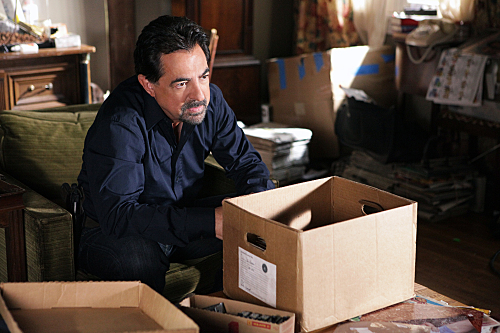 Rossi's past resurfaced in an unexpected way.

At first, he assumes this is probably just a copycat doing the Butcher's thing, since the new killings are sloppier. Yet Rossi insists the aging Butcher is somehow involved in this.

Hotch points out inconsistencies, but Rossi is having none of it. While the others work the copycat angle, Rossi realizes it's a father/son relationship and the Butcher has a son.

He was dead on. We flash to Mullens luring women into a van and Colby grabbing them, and the pair ordering them what to say. Sure enough, the elder has memory issues.

A clue comes from the eighth kidnapping victim, Karen, and why she didn't call anyone during the ordeal. This is because she had a son, Colby, who lives locally with Lee Mullens.

She didn't call anyone because the would-be recipient was present already.

Colby tells his father he's going "hunting" alone and the team descends while he's out to snare Lee Mullens. They see then that everything's labeled because he has Alzheimer's.

His slides were the prior abduction sites. Rossi tries to get Mullens to give up Colby's location with the next victim, and how he got his son to help him "hunt" in the first place.

Rossi cajoles him into giving up the location of the abandoned building where Colby is, and he's busted. He learns only then that his mother was one of the victims of the spree.

As the team's leaving the station, the Butcher admits to Rossi that he remembers him and he's the reason he stopped. That may be of little consolation now, but it's powerful.

It's a testament to the strong writing of Criminal Minds that we're left somewhat unsatisfied, if not sympathetic, when this cold case is wrapped after a quarter of a century.

But because of the killer's condition, he's more than just the bane of the BAU's existence, he's a very sick man with signs of a disease that has touched so many of our lives.

There's relief, to be sure, but it's very nuanced. Anyone who has known someone with Alzheimer's knows that in a sense, the person is already imprisoned in their own mind.

With the sadness from A.J. Cook's final episode still lingering, there was definitely a void in last night's show. But hopefully it can at least continue these strong story lines.

All in all, a very solid episode of one of TV's top dramas. What did you think of it? What are you hoping for more of in the coming weeks? Sound off and comment below ...

Steve Marsi is the Managing Editor of TV Fanatic. Follow him on Google+ or email him here.

Tags: Criminal Minds, Reviews