Welcome to TV Fanatic's Grey's Anatomy Round Table, in which our panelists discuss the burning questions from the most recent episode of the medical drama.
The topics for our "These Arms of Mine" Round Table Q&A and TVF's take ...
1. What was your favorite Grey's Anatomy quote from the episode?

L.J. Gibbs: "Being a hero has it's price." - Yang
M.L. House: I'll go with Sloan's take on the installment: "You picked a good night to start filming. This is gonna be fun." As you'll be able to tell in my following answer, I couldn't disagree more.
Mrs. Northman: Derek: "He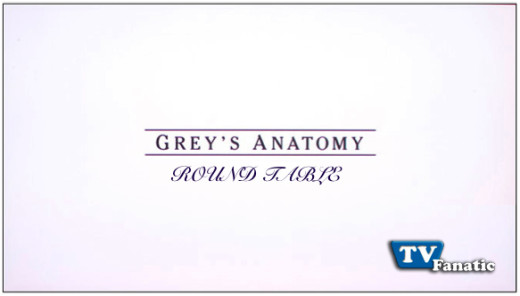 2. The documentary-style filming: Cool change of pace or lame gimmick?
L.J. Gibbs: It was sort of cool, and didn't take away from the episode. Still, it didn't add much, there was no reason to do it, and it felt like a gimmick done just for the sake of it.
M.L. House: INCREDIBLY lame. First, it was a transparent attempt to be edgy (suddenly the characters curse and get beeped, even though they've never once cursed in the history of the show?!?). Second, it was a cop-out by the writers. I'd rather have actual stories depicting the pain the doctors are going through, not them just staring into a camera an saying it.
Mrs. Northman: I liked it! It showed us an interesting look inside each character that we usually don't get to see because they normally aren't speaking directly to the camera.
3. Which medical case were you most moved by last night?
L.J. Gibbs: The double-amputee, and not just because of his self-deprecating sense of humor ("I'd bury my head in my hands, but I don't have any hands...") or the tie-in with the episode name. Was his wife crazy Katie Kent from Private Practice, though, or am I confusing her with someone else? Assuming I'm correct, how can you have the main cast cross over between shows, but cast one of PP's most infamous guest characters as this random woman?
M.L. House: The one with Mandy Moore. She hasn't moved me this much in a faux medical instance since A Walk to Remember.
Mrs. Northman: Probably Zack's because he was able to get a new lease on life.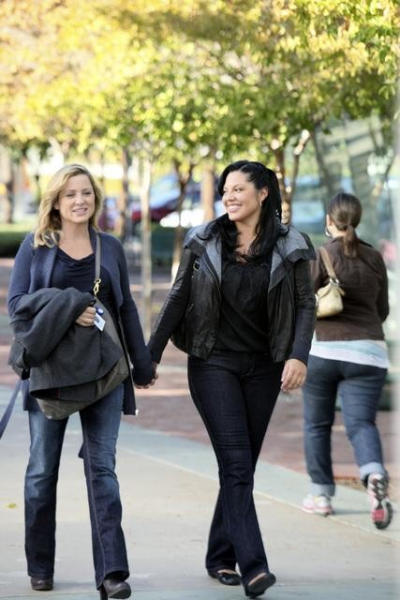 OFF TO AFRICA? Will Arizona and/or Callie really leave? Will they stay together?

4. Will Callie and Arizona make it?

L.J. Gibbs: I have a feeling Arizona's going to Africa without Callie, but that they'll work things out and get back together when she returns. Also, she will no longer conveniently stand in front of charts and sleeping bags at that juncture.

M.L. House: Yes. And they'll become huge soccer fans in the process.

Mrs. Northman: I def. hope so! Why not? Callie made a big sacrifice to leave with Arizona. Why break-up now?

5. Seriously, when will Cristina get it together?

L.J. Gibbs: From the Grey's Anatomy spoilers I've read and the previews we've posted, next week looks like it will be HUGE for Cristina. How will she respond when she's actually in a do-or-die situation? I fear it may get worse before it gets better.

M.L. House: Maybe, never. I hate to break it to you, Round Table Question Maker Guy, but some experiences are too traumatic to move past.

Mrs. Northman: Of course! It's Cristina. I just hope its sooner than later. I loved the days when she kicked cardiothoracic butt!

6. Which Seattle Grace doctor would you bring in for show and tell?

L.J. Gibbs: The Chief. He's been on such a PR mission lately, I'm sure he'd deliver a kick-ass marketing powerpoint for the hospital.

M.L. House: Meredith. I want her to tell everyone as often as possible how surgeons "live to cut."

Mrs. Northman: Hmm... I'd go with Lily's choice and choose Alex. He's great with kids and not so bad to look at! ;)

What do you think? Weigh in with your own answers/comments!

Steve Marsi is the Managing Editor of TV Fanatic. Follow him on Google+ or email him here.

Tags: Grey's Anatomy, Round Tables
Want more Grey's Anatomy?
Sign up for our daily newsletter and receive the latest tv news delivered to your inbox for free!
More From TV Fanatic
Our Suits Round Table team gets "Litt the Hell Up" as they debate mixed signals, telling the truth and favorite moments from last week's episode. Ready to join in the fun?
Our Days of Our Lives round table teams up with MyHourglass to debate if Will took his tirade against Sami too far and whether Abigail has suffered enough after this week's Days of Our Lives.
Gather around, Pretty Little Liars Fanatics. Let's discuss "Run, Ali, Run."
Join in on the discussion as we ponder over the events in Suits Season 4 Episode 5, including Harvey and Mike's temporary truce, the adventures of Louis and Donna, and more.
---