Tuesday night's NCIS: Los Angeles was a little less explosive (relatively speaking) and a bit more layered in traditional NCIS fashion than we're used to. By and large, it worked.
As we saw on the original NCIS, the case melded with character-driven subplots that made for an entertaining episode on multiple levels, a formula we certainly hope continues.
"Special Delivery" began with a killing at a Beverly Hills mall that quickly escalated into a case of jewels stolen from Iraqi museums. A marine, found dead, had his hand severed.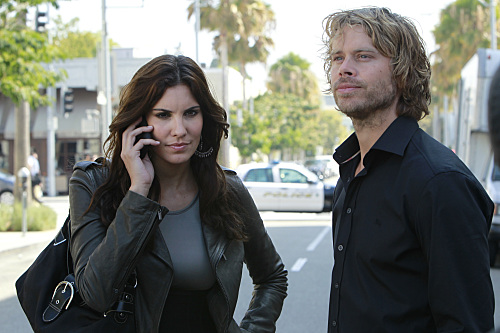 Kensi and Deeks are always entertaining as the show's second tandem.

The victim, Cpl. Thomas Porter, had top secret security clearance and was under investigation while serving in Iraq after his CO had been linked to trafficking stolen Iraqi artifacts.

A parking stub car leads Sam and Callen to the store of a jeweler, Jacob Rosen - also found dead with his hand cut off. His records ead the team to Iraqi-born jeweler Aziz Ashiri.

Kensi and Deeks find a bloody knife in his home, but Sam, knowing Aziz follows the laws of Sharia, sees that the items were placed in a paper bag and thus, that Aziz was set up.

A small detail to the untrained eye, but Sam realized immediately that it was amiss. A man following hard-line rituals would have wrapped the item ceremonially, not haphazardly.

But who would - and could - set him up so elaborately?

The team digs deeper and discovers a car that entered the parking structure right before Porter's murder was stolen from a fellow Marine by Porter's best friend, Corporal Petersen.

Eric, with a little help from his sentence-finishing understudy, also discovers Petersen worked for Rosen as a courier. If Porter had stuff to sell, Petersen connected him with Rosen.

This arrangement turned contentious, though, when Peterson grew jealous, knowing Porter would get all the money. He killed Porter, then Rosen in order to frame Ashiri for it all.

The endgame? Abscond with all the loot for himself. Not to be, though. Sam and Callen track down Petersen and the obligatory chase scene ends in a fiery shootout and his death.

As Callen said, he was the link to everything, and not an easy one to pinpoint for the agents or the viewers. It was a complicated case and a solidly-written episode of NCIS: LA.

The plot kept us guessing, and the agents kept us entertained. Not a lot more you can ask for from it, right? The second season is showing no signs of a sophomore slump so far.

It's fun to watch Deeks and Kensi working one angle of the case as the odd-couple answer to G. and Sam running point, giving the team a double dose of the buddy-cop dynamic.

Eric getting worked up is great, too. Hopefully they keep that perky foil of his around awhile, because someone's gotta keep the all-knowing supergeek in check. And they're cute.

Oh, and happy birthday Hetty!

Steve Marsi is the Managing Editor of TV Fanatic. Follow him on Google+ or email him here.

Tags: NCIS: Los Angeles, Reviews