It was nice to see a much improved episode this week on No Ordinary Family. I'm officially a fan. Many things were discovered, covered up, and revealed about the powers of the Powells.
It's great to watch the family getting used to its powers and learning how and when to use them. Jim is only taking advantage of these abilities to save his close friends, while Stephanie acts on them help learn about the scientific effect of her family. They are finding a healthy balance. I hope they keep the balance up because thee does need to keep in mind the effects that exulting their powers can have on their bodies.
Speaking of Stephanie's powers, wasn't Dr. King suspicious when she never showed up for the meeting Katie called her about?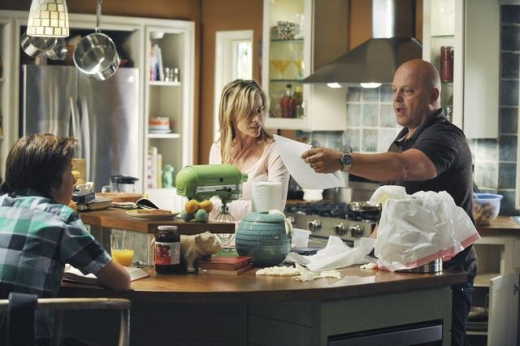 [Photo: ABC]

I was curious to see some results in the water testing that Stephanie and Katie conducted, as now it's even more up in the air as to what could be the cause of the powers the family received during the after or during the plane crash.

The only unrealistic, yet still charming, moment in the episode took place when Daphne learned to control her powers in fewer than 10 seconds. Sure, her mother helped her, but weeding out thousands of voices inside peoples heads has to take a little more practice to get it perfect.

Stephanie and Jim argued quite a lot tonight, and both made valid points. Jim needs to help with crime and Stephanie needs her speed. Stephanie running 500 miles each way was a little corny, but still an enjoyable watch. I understand why Stephanie is quick to want to cure these powers, but she needs to consider the positive effects they can have.

The school fair was fun. We revisited some of Jim's insecurities, but this time he had a chance to overcome them by dunking the badmouthing husband. Go Jim!

Dr. King and his assistant think they've killed the only person who saw the powers of Copeland, and I'm wondering when and how they will find out that Jim saw them, too. Hopefully, Daphne and her mind-reading can help there.

The Powells seem to be a little all over the place when it comes to how they feel about their abilities. One minute they think it might be for a reason, another minute they withhold from using them, another they only use them at certain times, and at the end are convinced they are needed. Make up your mind, Powell family! Anyway, it will be very interesting to see how they further deal with this as a family, and how Dr. King plays into it all.

Tags: No Ordinary Family, Reviews