This was a solid episode of The Good Wife, free from some of the soap opera shenanigans that plagued the first pair of season two offerings, but someone may need to clear something up for me:
Just how much of a national story would be a race for state's attorney actually be?!? On "Breaking Fast," we were led to believe that The Huffington Post would care enough to post a photo of Peter and the books he was carrying.
We've also seen shots of news programs comparing a cheating scandal by some congressman out west to that of Peter and Alicia. It seems like a major stretch to believe the rest of the country would focus this much on the Florricks. Quick, can any reader name a single state's attorney outside of your own right now? Exactly.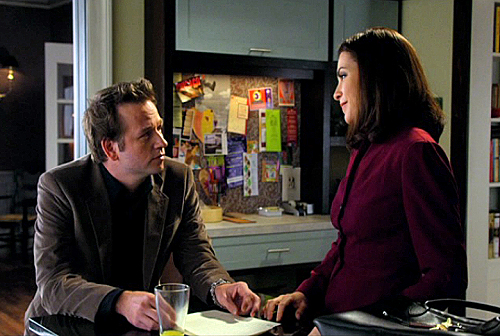 That complaint aside, this episode would have been a winner for the presence of Dallas Roberts alone. He's great on Rubicon as the stressed, twitchy Miles; and it was nice to see him actually smile a bit as Alicia's gay brother.

Would anyone object if he took Peter's advice to heart and actually moved to Chicago? Neither would I.

Viewers were also treated to an interesting case of the week. It took a couple intriguing turns and gave us plenty of Titus Welliver, which is never a bad thing. It was fun to watch him scowl and squirm during Childs' deposition, and then to watch the firm get a victory over the prosecutor's office.

Meanwhile, we didn't get any more on the connection between Derrick and Will. Diane clearly knows something is amiss, but must be saving that ammunition for the right moment. For now, the inclusion of a new partner is causing fascinating tension at the company, both at the top and down lower on the professional food chain.

It's safe to assume Kalinda and Blake's rivalry will soon go from the streets to the sack, isn't it? But can we please give these two a little less access to the police force. Are we really supposed to believe Kalinda would have been permitted to literally stand alongside cops during an arrest of this magnitude?!?

Overall, the best episode of the season. The show has to be careful not to go overboard with a focus on Peter's campaign, as it's best left in the background and opens up the possibility for too many silly developments (I swear, this better have been the final instance of a kid using a cell phone against the Florricks...). But between Alicia's speech to her brother and that humorous breaking of the fast, the installment provided quality Florrick family fodder.

What did you think?

Matt Richenthal is the Editor in Chief of TV Fanatic. Follow him on Twitter and on Google+.

Tags: The Good Wife, Reviews
Want more The Good Wife?
Sign up for our daily newsletter and receive the latest tv news delivered to your inbox for free!
More From TV Fanatic
On tonight's The Bridge, Marco is made an offer that he initially refuses. Will he agree to go after Fausto?
Things go from bad to worse for Molly on Extant as she tries to escape the prying eyes of the ISEA but chooses the worst place for safety. Read on for a full review.
Mike is on a war path, but is he headed in the right direction? Read our Graceland review of "Los Malos" now to find out!
Rachel tells Mike about the kiss as Mike struggles to pick up the pieces after his firing. Read our Suits review of "We're Done" now to find out what went down.
---