There are three interesting storylines on 90210 this season:
Teddy's struggle with his sexuality.
The consequences of Naomi's rape.
The mystery of Charlie and Liam's relationship.
All of these have potential for true drama and heavy stakes - and none of them were dealt with for a nanosecond on "Mother Dearest," making it an especially boring episode of this CW series.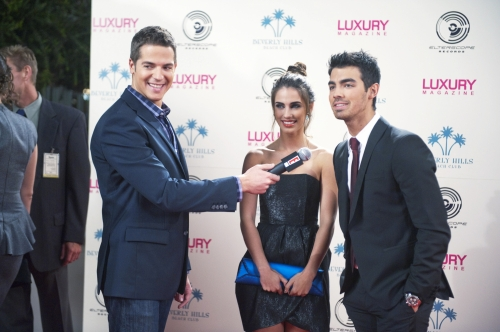 With the aforementioned developments utterly ignored for a week, think about the plots that received attention. Did any really stand out as suspenseful or attention-worthy?
Let's start with
Oscar and Ivy
. The latter's mom slept with the the former's married father and eventually drove Oscar's mother to drink herself to death. Pretty big deal, no? So Oscar gets revenge by... having consensual sex with both Ivy and Laurel?!?
This is an icky idea, no doubt. But he didn't force anyone to do anything. Laurel and him even carried on a seemingly enjoyable affair for many weeks. Oscar's actions don't seem on par with someone truly interested in getting back at the woman that he thinks is responsible for indirectly killing his mom, do they?
Laurel is a major player in the music industry. Wouldn't it have made more sense to destroy her career?
Moreover, Ivy's plan for vengeance was equally lame last night. This guy lied about being my friend and took my virginity... so I'll leave him naked in a pool! Seriously, 90210? That's the most edgy and dramatic you can be? I can't be the only viewer who finds this entire series of events too G-rated to keep me interested, can I?
I also must comment on the incredibly low-budget magazine party. Victor chided Adrianna for treating the event like the prom - but isn't that exactly what it felt like? There was no celebrity aside from Joe Jonas there and, really, it took place at the beach club?!? Why not pretend as if it was based at an actual Hollywood establishment? That would bring a sense of realism and make it appear different than every other party thrown at the beach club on this show.
Then, there's the issue of Dixon and Annie visiting their father. Here's the thing: we all know Rob Estes left the series. There's no surprise or drama here because an actual, real-life development makes the story's outcome obvious.
The show has also done a poor job dealing with this split. Harry supposedly lives 45 minutes away, right? So we're meant to believe he still doesn't see his kids often? It would be such a big deal for them to pay him a visit? He wouldn't have seen Deb once in order to know she wore her wedding band? None of it really added up.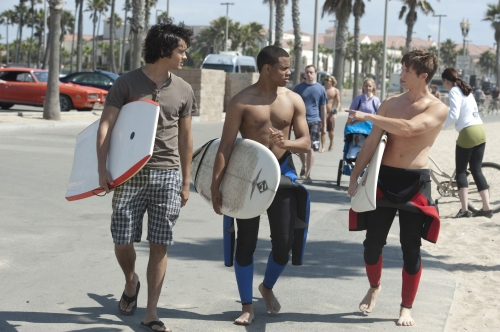 Moving on to Navid, at least his child pornographer of a father is something new. We've seen so little of this character that it's hard to care, and it's extremely hard to believe he'd run to his guidance counselor and demand his essay back - but I'll take it easy on this storyline. I'll give it credit for being unique and for giving Silver a reason to grow closer to Navid.

But, again, the show shied away from creating true drama. Couldn't she and Navid have actually kissed? Instead, the major suspense is that they - gasp! - almost kissed?!?

You tell me, readers: Am I being too harsh? Should I just accept this as a primetime soap opera meant for a younger, more innocent crowd? If I do, perhaps I'll stop tearing it apart for what feels like such uninteresting territory, with so little at stake.

Or do you agree with my assessment that it's very poor writing to set up the intriguing stories listed at the top of this review, only to ignore every single one of them and give viewers very little confidence that any will have a satisfactory conclusion?

Matt Richenthal is the Editor in Chief of TV Fanatic. Follow him on Twitter and on Google+.

Tags: 90210, Reviews