A Sarah-centric episode of Chuck gave our Round Table panel a great deal to analyze this week.
As always, we encourage readers to jump in and discuss the topics analyzed below. Let's get to it!
What was your favorite quote from the episode?
Dr. Toboggan: Morgan to Casey and Sarah: "Daddy's got something Daddy likes... I'm Daddy."
Dan F.: Jeff's four words: My abscess, Lester's gout.
Eric H.: As hilarious as the Buy More crew was at Awesome's, I laughed the hardest when the waitress asked, "Mr. Casey, your usual?"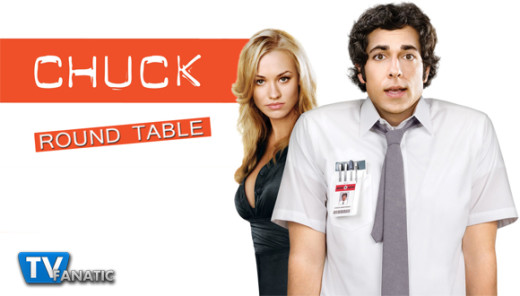 Give Sarah her next opponent in the ring.  Real or fictional.  Dead or alive.  Just make it fun!
Dr. Toboggan: I'd like to see her fight Jennifer Garner, Alias-style, or in my ultimate Chuck finale, she should fight the leader of all the bad guys: Mr. Neil Patrick Harris.

Dan F.: I said in my review that she needed to face Sagat or M. Bison from Street Fighter 2, but let's change it Cammy so there is a supreme blonde-off.

Eric H.: Tyler Durden.  But only for the irony of me stealing the question from him.

Really... she-male?  Give the beautiful ass-kicking Sarah a better nickname.Dan F.

: That's exactly what makes it work so well. Nicknames aren't supposed to make sense, they're supposed to be fun! The irony in Shemale is that it's perfect for Sarah.

Dr. Toboggan: I'm with Dan on this one, I appreciate she-male for Sarah.  Plus, no nickname could top Awesome or little bearded man anyway... so why try?

Eric H.: Geesh, guys, way to kill my joke of answering with: "Mine."

Now that his plans have been spoiled, help Chuck come up with a new proposal idea.
Dr. Toboggan: He should fake an entire mission and pretend like they are in real danger before popping the question, via a hidden camera-type revelation.

Dan F.: Take her to a really romantic spot - like the Buy More - and propose in front of all of your friends - like Jeff and Lester.

Eric H.: I would take her to most romantic spot possible in the most romantic city: the bridge in Paris, where Casey shot Shaw. Every girl wants a proposal form her boyfriend in the spot she thought he first killed an ex of hers.

What are you bringing to Chuck's Thanksgiving feast?
Dr. Toboggan: Four Loko and Jeffster.

Dan F.: Thai food!

Eric H.: Well, first off, Doctor, please bring some extra Four Lokos for me before they ban those things.  And I think my contribution will be the legendary Turturkeykey.

Eric Hochberger is the programmer of TV Fanatic, so please forgive his mediocre writing. His programming is far better. Follow him on Twitter and/or email him. Just don't request threaded comments. They're coming.

Tags: Chuck, Round Tables