Six couples remain in pursuit of the Mirror Ball trophy. Many stars from past seasons returned for the 200th episode. Last night's Dancing With the Stars was truly one to remember.
Okay, not really, but it was as good as any.
Dancing With the Stars gave us an extra dose of celebrity this week as some memorable past contestants were brought back as guest judges, one for each of the current competitors.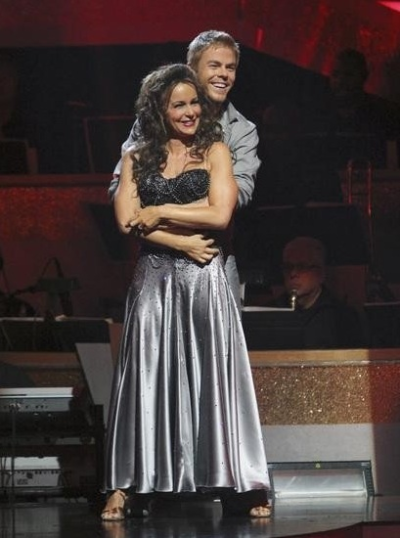 Jennifer Grey remains the season's gold standard.

First, there were two team dances, led by champs Kristi Yamaguchi and Apolo Anton Ohno, which accounted for one score (out of 40). Then the individual dances took place as usual.

Jennifer Grey, who said her body wasn't able to handle the tough dances anymore, was judged by Drew Lachey. Pain or no pain, she dug deep and finished Monday with 64.

Brothers & Sisters star Gilles Marini judged Brandy's foxtrot, which landed her in a tie with Grey with 64. Emmit Smith judged Kurt Warner's tango and helped give him 61.

Helio Castroneves judged Rick Fox, who also ended up with 61. Mel B. judged Kyle Massey's paso doble, earning him 59. Bristol Palin? Bringing up the rear with a modest 57.

Is this finally her week to go home? Do scores matter? Did the guest judge aspect help the show in any way? Who are you rooting for as the 11th season kicks into high gear?

Follow this link for lots more Dancing With the Stars!

Steve Marsi is the Managing Editor of TV Fanatic. Follow him on Google+ or email him here.

Tags: Dancing With the Stars, Reality TV, Reviews