Gwyneth Paltrow + Glee = An amazing hour of television last night.
"The Substitute" was easily one of our favorite episodes in this show's history, as it was nothing but plain old fun. What stood out the most? We go over various aspects of the installment in this edition of the Glee Round Table...
What was your favorite quote from the episode?
Matt R.: Sue's advice to Will toward the end of the hour: "I suggest selling yourself on Craigslist under the heading of 'Men seeking Men with butt chins.'"
Steve M.: An easy choice with this classic from Brittany: "Mr. Schu taught me the second half of the alphabet. I stopped after M and N. I thought they sounded too similar and got frustrated."
Eric H.: Holly to Rachel: "You're like a total drag. Has anyone ever told you that?" Thank you! I love Lea Michele, but someone had to put this character in her place!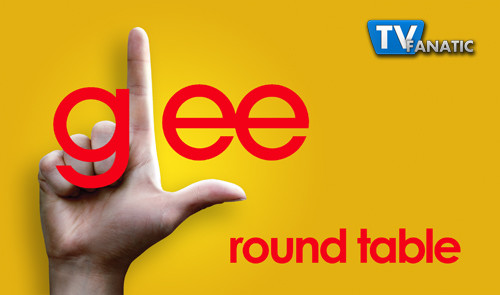 What was your favorite performance from the episode?
Matt R.: Forget You. So much energy, such a great idea to cover the Cee Lo song whose lyrics are a tad more racy. I loved every second of it.

Steve M.: I second that, Matt! Just sit back and watch this video and tell me it's not as fun-loving a song as the show has ever done.

Eric H.: Gwyneth was great, but she was even better when on stage with Rachel. Their dance number to, hand and cane in hand, must have been a hoot to practice. It certainly was for me to watch.

Choose a side in the Sue/Mercedes' tater tot feud.Matt R.

: I'm actually on Team Sue. She may come across as an antagonist, and she didn't seem to have many health concerns when she gave Figgins the flu... but the decision to ban tater tots was an inspired one. Many schools around the country have taken action against poor cafeteria fare and I'm on board with them.

Steve M.: Team Mercedes. Come on. She stuffed food into Sue's tail gate and ruined "Le Car." Hilarious!

Eric H.: Team What About the Homeless People Who Could Have Been Given Those Tots Instead of Them Going to Waste? I liked Sue's idea, just not its execution.

Compare Gwyneth Paltrow to past guest stars.
Matt R.: She was my favorite, (jazz) hands down. I've made it clear in my reviews that I adore Glee, but not as much when it takes the overly preachy, PSA-like route. This episode was utterly entertaining, while still managing to mix in commentary on the economy and teaching in the age of social media. Holly Holliday injected a breath of fresh, fun air in to what can sometimes feel like a stale high school. I adored her.

Steve M.: I enjoyed her a lot, but she was only my second favorite blonde to appear on the show. My clear cut number-one choice? Kristin Chenoweth. Why? Three words: bowling alley karaoke.

Eric H.: Mike O'Malley is still considered a guest star, right? He's deserving of an Emmy for his portrayal of Kurt Hummel. I'll also take John Stamos over Paltrow, as I'm yearning to see more of his dentist in the near future.

Matt Richenthal is the Editor in Chief of TV Fanatic. Follow him on Twitter and on Google+.

Tags: Glee, Round Tables